Sujan Perera to step down from captaincy
football
View(s):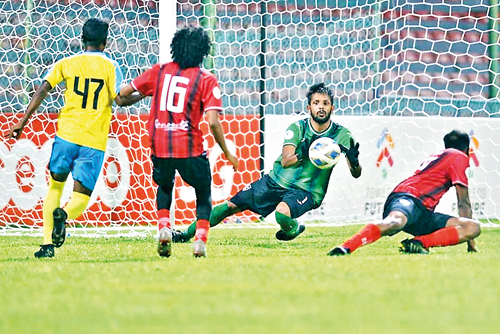 Captain of the Sri Lanka men's football team, Sujan Perera, addressing a letter to the President of Football Federation of Sri Lanka (FFSL), has intended his interest of stepping down from his position of leading the side. Perera (30), a goalkeeper, has represented Sri Lanka since 2011 and appeared for the country in nearly 40 internationals.
In his letter, Perera stated that he would be stepping down as the captain of the national team 'after the FIFA ban gets lifted.
"In my time I hope I did everything I can, on and off the field to help my players to perform better in each and every game," the letter stated.
Perera first represented Kalutara Park from 2011 to 2015 before moving to Maldives to represent Club Eagles for five years in 2015. In 2020 he joined Upcountry Lions. Under Perera's captaincy Sri Lanka strived to record close finishes against top countries and a draw against regional giants India.
"I will wait till the FIFA ban is lifted as captain, just to guide my boys since there's no one to take responsibility. My service as a player will be there until I retire."
Sri Lanka was handed a global ban by FIFA on January 21 and since then football has been facing a decline with no activities taking place. Critical on the plight of the present situation of football, Perera added hinted that officials responsible should take the blame for its calamity.
"If anyone requests me to keep the captaincy, fulfil the mistakes you all did and protest the players first."