SLC designs Level III coaching programme
cricket
View(s):
For the first time in the island, Sri Lanka Cricket (SLC) launched its very own SLC Level III Coaching Programme, where 19 coaches covering district, provincial, club, and high performance centre, took part in the five-day residential programme held at Sooriyawewa, Hambantota.
Considered as one of the highest qualifications in cricket coaching, the Level III coaching programmes were conducted in Sri Lanka by foreign experts prior to this. But the SLC Coach Education Unit, led by Jerome Jayaratne and Head of Coach Education Unit, Heshan de Mel, created a custom made curriculum considering cultural and other factors to suit the international standards.
The programme, which focused on multiple game related and knowledge building topics such as 'High Performance Culture', 'Team Branding', 'Mental Skills', 'Skill Adaptability', 'Bio-Mechanics', 'Movement Analysis in Batting and Bowling' and 'Performance Analysis', was conducted by eight presenters with the aim of enhancing the knowledge and training skills of local coaches. In addition to the game related aspects, the, coaches were also given training on 'Media Relations', 'Public Speaking', 'Information Technology' and 'Self-Learning Skills'.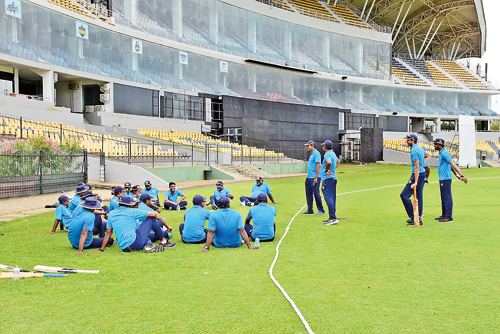 "Usually the Level III has a high cost factor involved and that's a major setback from the perspective of local coaches. That's one of the reasons why SLC planned on a homegrown curriculum, to fit in with the local coaches. By not requiring the assistance of foreign educators for conducting the course and by saving our coaches from having to pay to study overseas, millions of dollars were saved for both SLC as well as the participants," stated Heshan de Mel, the Head of Coach Education Unit of SLC.
The resource panel of this programme, consisted of Heshan De Mel (Head of Coach Education Unit of SLC), Ruwan Kalpage (Head Coach of the Emerging Team), Jehan Mubarak (Head Coach of Sri Lanka Under-19 team), Chamila Gamage (Fast Bowling Coach of U-19 team), Kaushalya Gajasinghe (Coach Educator at SLC), Shirantha Niroshana (National Team Analyst of SLC), Dilshan Fonseka (High Performance Trainer) and Prasanna Rodrigo (Media Manager, SLC).
The Coach Education Unit, which was established in 2008 has grown into a fully-fledged coach training unit and now conducts Coach Programmes of Level 0, I, II and III and sourcing home based resource panels.