Thilan Walallawita – a Sri Lankan dreaming of playing for England
By Pranavesh Sivakumar
cricket
View(s):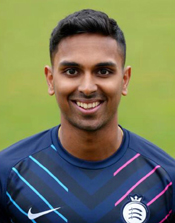 Sri Lankan born England based cricketer Thilan Walallawita regards it an honour to have a Google profile. Having no such high expectations when turned into a professional cricketer, it is only quite honourable.
"It's really good to have one of those", junior Walallawita said.
But the process and journey of featured in Google to becoming a specialist left-arm orthodox spinner, a regular in his Middlesex side, naturally never happened overnight. It was a test of time and patience since he first set foot in the Queen's land on December 1, 2010.
Born in Sri Lanka, based in Britain, which is his home away from home now, patience paid off when he finally became a Brit, which enabled him to play as a local lad. That decade long wait was also part and parcel of an eight-year to become a contracted player.
"I am yet to show what I am capable with the bat and ball", he asserted.
"There have been no worst moments yet. But the best moment so far is, signing my professional contract with Middlesex in 2020".
In all blessings, coincidence struck, in his debut itself playing against Surrey, and had the rare opportunity of playing against fellow countryman, Kumar Sangakkara, in his very first game.
Recounting that memorable maiden match, "Getting the call exactly before dawn and being told he would play in the four-day game against was simply surreal. We played at Surrey Oval, which is one of the best international grounds. Lord comes first, but making my debut against Surrey was surreal".
Thanks to that surreal moment, his county cricket off to a flyer. Apart from icing on the cake of playing at Oval, the best was yet to come. Middlesex won that game, making it a dream debut for Walallawita, who collected three scalps, his career-best to date. He also went on to make his T20 debut, and faced Pakistan's Shaheen Afridi, already regarded as a great in the sport.
"Facing him was a good experience", said the 24-year-old, speaking to the Sunday Times during his sojourn stay here at home, where he vacationed after seven long years.
Hailing from Panadura, he also chipped in for Panadura Sports Club, in the Major League Tournament, Sri Lanka's topmost domestic cricket competition. "This is the first time I came to Sri Lanka after seven long years. I was sorting out my passport and didn't want that to get interrupted. Currently just trying to get some exposure at Panadura Sports Club, where my father used to play."
Asked if at any point he felt of playing for his home country, he agreed, stating that he had those enticing moments.
"There were certain occasions I wanted to play for Sri Lanka but being in England, having a good life and a proper system there, made it easier for me. Obviously, occasionally I had thought of playing for Sri Lanka, but going forward I knew playing for England is a better option. Specially, having lived there for 10 years, England would be the preferable country I would want to play. I always wanted to play professional cricket there".
"Being honest, I genuinely have had no issues of racial issues in Middlesex. They have been really welcoming. They have been very friendly and treating each other equally. I just have not had any issues at all," he said of his Middlesex stay, with who he is on a three-year deal.
Going forward, his ambition is as same as any cricketer.
"To enter the English side in all formats. There are English selectors scouting talent. Middlesex selectors and staff do have all the faith in me. As a left-arm spinner they do see a lot of potential in me. I just have to put that into game situations and do well. Hopefully, one good season will open the door to play for the English team", he hopes. A 2004 Boxing Day Tsunami survivor, his scariest day till-to-date, Walallawita is a second generation cricketer, following suit his father, Ajith.
"It was kind of 50-50. I did want to set my own legacies and at the same time, follow my dad's footsteps," he responded about setting out along a different line, and concluded thanking Middlesex for the last eight years and his family.