Prathibha claims Sri Lanka U-14 Girls Youth Chess GP
View(s):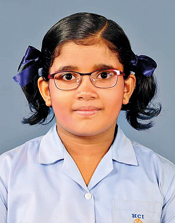 Prathibha Nethsarani Bandara of Horizon College International was crowned as champion of the 3rd Sri Lanka Under-14 Girls Youth Grand Prix 2022. In the championship round, Prathibha competed with Jayandi Bimansa of Bandaragama National School and claim the prized title comprehensively. Bimsara had to satisfy with the first runner-up position.
H.M.D.L. Herath of Defence Services College claimed the second runner-up position, beating Chenaya Ekaratne in the playoff. Bimansa, Prathibha, Chenaya and Herath ranked top four places after the round-robin event and advanced to play in the semi-finals.
Nine players competed in the tournament where they played nine rounds in a round-robin format event. From that, the top four players were selected to play in the semi-finals and the winners in the semi-finals went on to play in the final. Time control of the event was 90 minutes and an increment of 30 seconds from move first move.
The 3rd Sri Lanka Under-14 Girls Youth Grand Prix held from October 29 to November 5 at the Headquarters of the Chess Federation of Sri Lanka in Torrington.