From International to County cricket
by Naushad Amit
Suranga Lakmal reflects on his international career and new life at Derbyshire county
View(s):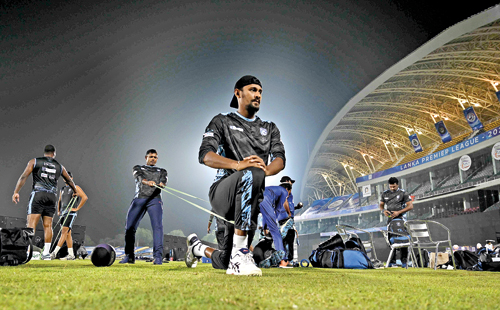 Any sportsperson deciding to throw in the towel from the international stage may have a thing or two that could be meant as regrettable. But for Suranga Lakmal, now 35, if he had any, it was not playing county cricket while he was still very much active and in-form as a genuine fast bowler and a professional cricketer.
After making his county debut for Derbyshire against Middlesex on April 7, 2022, Lakmal partly indicated that he had wished the opportunity in England could have come his way some time earlier. Lakmal had his reasons to say so, after being overwhelmed by the true professionalism and conduct county players manage themselves, a lesson and experience he thought could have shared with his fellow compatriots.
"Yes, I already knew Mickey Arthur, the coach of Derbyshire very well, but the environment was totally different from our dressing rooms. They had reserved a locker with my name on it. I don't think even some of our international venues are equipped with such facilities. I would say Derbyshire welcomed me warmly. Even though we are meeting them for the first time, they had seen me playing, so it was easy to relate to them," said the veteran of 70 Tests, who had returned home to nurse an injury.
What makes Lakmal's claims of the clear difference of the dressing room culture, mainly comparing that of a national team and a county side, is the manner players conduct themselves and of their commitment to improve more from the last game played. This, as Lakmal outlined, is an attitude the present generation of Sri Lankan cricketers should adopt and practice.
"When I started my career here, there were several senior players in the dressing room and it helped our development. But this changed as we lost a number of seniors. What I saw in a dressing room in a county team is the professionalism they have. We have a lot of team meetings in Sri Lanka for analysing and making game plans, but in a county, players do those by themselves. This is the biggest difference I saw. I was confused a bit at first. If you look at match preparation, it's all up to the player to do all the research and analysing unlike here, where you need a bit of push from the trainers and coaches," he said of the new surroundings in the East Midlands.
Lakmal was first drafted to the Test side, in the tour to Pakistan where the Sri Lanka team was in the news around the globe for the wrong reason. Just a week before his 22nd birthday, on March 3, 2009, the Sri Lanka cricket team was attacked by a group of terrorists, eventually having six players severely wounded. Lakmal was one of them.
Thereafter he was advised by doctors to take a break for at least two years, but nine months later, on December 18, he made his international debut against India in an ODI at Nagpur. After his first Test call-up Lakmal had to wait almost two years before making his debut against the West Indies in Colombo, where he was able to claim a couple of wickets in the drawn game. His T20I debut came against England at Bristol on June 25, in 2011.
By the time Lakmal ended his international career on February 2 this year, he had a tally of 288 international wickets across all formats – 171 in Tests, 109 in ODIs and eight in T20Is. Despite his career spanned nearly 13 years, Lakmal probably had more to offer for his country but certain policies adopted by the cricket hierarchy confined him only to Tests, a format played less by Sri Lanka, but the most prominent of all. It probably was one of the reasons why Lakmal called it quits as he was reaching 35 of age.
"We should not categorise players separately for ODI, T20I and Test. Yes, some like to play T20 most. But the original is Tests. You might get money, but you will never get the fulfillment if you don't play Test cricket. Your first commitment should be the country. You can be the biggest star playing in all the top leagues in the world, but you must always remember you get these opportunities because you played for your country first. As players we should not forget our beginning and this is the biggest reason why people are going after money," he opined, having high praise and faith of the current generation, while issuing a warning that the cricketing future of Sri Lanka may take a different course, when monetary benefits are prioritised ahead of cricket.
In Sri Lanka itself first class cricket has already taken a deteriorating path in standards and Lakmal, turning out for one of the 16 county sides of England's topmost domestic competition, feels the difference of the quality of cricket between the two country's domestic circuits. This, he sees as a major setback to the development of quality cricketers in any country.
"It's no secret we have way too many clubs, I don't think Sri Lanka has enough players in the system to play for 26 clubs. We now get players from India, Pakistan and Bangladesh. In England there are only 16 county sides, but they have a strong Division II competition. Here we cannot find players to play Division I and how we can get players for a second tier tournament. They have a good back up in England, and even if you take the teams, they have just few good players in their ranks," elaborated Lakmal of his first stint with Derbyshire, where he claimed 18 wickets in five games.
Out of the 171 Test wickets, Lakmal has a better record abroad, and he is termed an overseas overachiever with claims of seven wickets in Kolkata in 2017, five wickets in Bridgetown in 2021, five wickets each in consecutive matches in Christchurch and Brisbane in 2018-19, and 11 in two Tests in North Sound in 2021. Lakmal spends more time analysing opposition players and uses his vast experience with long spells, thus ending with success. Whenever he fails to achieve his target of claiming at least three wickets in an innings, Lakmal makes sure to analyse his own mistakes and make necessary adjustments before the next outing.
"If you don't have the skills it's not easy to take wickets. I used to analysis players a lot before a game to identify their strengths and weaknesses and make my game plan accordingly. Yes there's some support in Australia, England and South Africa. We play top class cricket, but it's not easy to get them out if you don't have the skills and if you don't have a plan," said the former Test captain of five matches, out of which he led his side to three wins.
"There was an issue after Dinesh Chandimal was banned during the West Indies tour there. Rangana (Herath) was next in line for the captaincy, but he didn't want to lead the side and he offered me. I did it because of him, and we won the game with everyone supporting me. I never wanted to lead the side. I didn't want to take that pressure. I like to play with a free mind. So I never had a dream of leading the side but when the opportunity was given I took the challenge," added Lakmal, who played his last international appearance in the Test against India at Bengaluru on March 12 earlier this year.
It was during that phase the Derbyshire contract was initiated by Mickey Arthur, former Sri Lanka head coach, with whom Lakmal had a healthy relationship. But he made sure to call his close cricketing friends, namely Chaminda Vaas and Rangana Herath for advice. Both had previous experience playing county and related the challenges Lakmal was ought to face, to which he bravely faced.
He knew bowling at county level is far more challenging than at international level, but despite his age Lakmal impressed the entire Derbyshire setup, bowling longer spells. At the beginning he was under tremendous pressure, being a newcomer to county cricket, but an experienced campaigner who had countered and devastated top batters of the world, Lakmal easily adapted to the system.
But his greatest challenge was to make a firm decision and think of an afterlife from international cricket, which has indicated fading lights of late. Lakmal was certain of what he wanted to do, but he spoke to those close to him – his wife, parents, team mates, friends and a few handful who he considers as mentors.
"I was sad for certain. Yes it was a decision I took to retire but when you come to terms with it, it was not easy. When I got up the next day after retiring, I felt like something was missing. I knew that I want be wearing the Sri Lanka jersey ever again. I have given my 100 percent. I have played the game clean for the best of my ability".