Hambantota: Haven for projects
By Namini Wijedasa in Hambantota
View(s):
Rs. 600 billion pours into Hambantota development with more to come
Decisions made in Colombo, while few know the whole picture
Govt. not providing sufficient info to local businessmen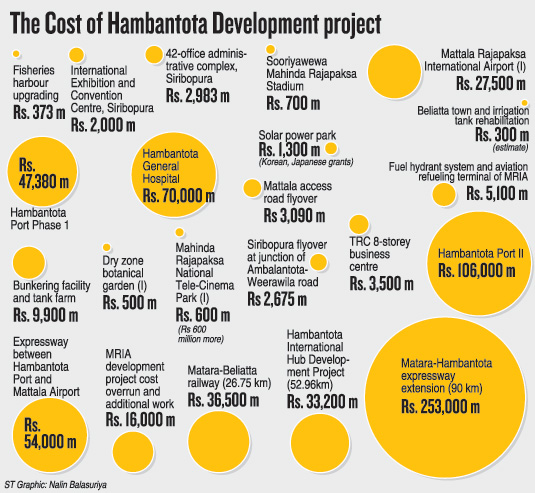 Miles of gleaming asphalt and mega infrastructure looming up from the sparsely populated terrain make Hambantota different to any other district in Sri Lanka. Ever since the Government started building it up—beginning, as it were, from scratch—billions of rupees have been poured into the district, and more is yet to come.
The Sunday Times endeavoured to compile a list of major completed and ongoing infrastructure projects in Hambantota. Each figure was checked, to the extent possible, with the relevant Government agency. Some statistics or project details could not be obtained. The list needs supplementing. For instance, it does not include the money expended on village roads or on irrigation and water schemes. An addition of available numbers showed that an amount of Rs. 676.353 billion has already been spent or is in the process of being spent on the district. The actual figure is much bigger.
The Urban Development Authority's (UDA) plan for Hambantota even includes a financial square and a diplomatic enclave. At present, only the Indian High Commission maintains an office there on rented property. Local officials said the consulate has requested two acres of land on which to set up its own mission but has been offered one instead. Agreement is still pending.
It is not typical for things to move slowly in Hambantota. Within a few years, a string of costly projects have been completed or are ongoing. Much of these are decided upon in Colombo, with little local participation. "People here are yet to feel the benefits," said a local private sector employee, who did not wish to be named. "They fear that, with more development, there will be more displacement."
Potential investors also have reservations, predominantly tied to the time it would take to reap returns. Any money put into Hambantota is unlikely to deliver benefits in the short term, they say. And a common complaint was that the Government did not provide sufficient or updated information to local businessmen about the opportunities available in Hambantota.
There was no transparent method by which a venture could be set up and no single office at district level coordinating the process. The Board of Investment, one complained, was too Colombo-centric. "One or two might know the whole picture," said Azmi Thassim, Past President of the Hambantota District Chamber of Commerce (HDCC). "Others know bits and pieces."
Hambantota, however, is being heavily promoted to foreigners—those with the really big bucks. Last week, a delegation was escorted there by the BOI and given a tour of the growing township. On December 9, another high-profile seminar will be held in Colombo to encourage foreign currency inflows. Former Malaysian Prime Minister Mahathir Mohamad is tipped to attend.
A Memorandum of Understanding is likely to be signed on this day with a Malaysian master developer for a transit hotel with entertainment, spa and meeting facilities on land annexed to the Mattala Rajapaksa International Airport (MRIA). The area will be a "visa free zone", enabling visitors to enter and leave without immigration clearance. This would also mean there would be no limitations on the amount of money brought in or taken out. Officials became cagey when asked for further details or denied knowing anything.
On the ground, Hambantota continues to change at a rapid pace. Activity was highest this month at the Magampura Mahinda Rajapaksa Port with construction of the second phase in full swing. Men and machines from the China Harbour Engineering Company move like clockwork throughout the day, excavating the basin and transferring earth to form a manmade island a short distance away.

A car carrier from Hyundai Glovis, a Korean logistics company, was berthed at the port. The next day, another Glovis carrier was seen making its way there. A vast array of vehicles, for the local market and for transshipment, moves through every month. This, along with fuelling services offered to passing vessels, is helping to edge up the port's income and its prospects are looking up.
Not far away, roads inside the Mirijjawila export processing zone (EPZ) are being redone but investors have been slow coming in. Work is yet to start at the second EPZ in Sooriyawewa for which land has been demarcated. The new general hospital, a Rs. 70 billion project, is rising slowly. In Siribopura, the 42-office administrative building now contains many Government offices. Some sections are still being painted a pale orange. The UDA has a sprawling space there, its walls dressed with posters showcasing Hambantota's incredible, choreographed transformation.
The exhibition and convention centre had nothing going on but a local official bragged that it had hosted many events. The cricket stadium stood empty. Land has been sectioned off for a safari park that will house lions, rhinos and other exotic animals. One woman said the park had "the tallest, thickest wall I have seen anywhere in Sri Lanka". A total of Rs. 1.65 billion has been allocated for preliminary work. While it has not been opened yet, there are a few animals inside, said an official from the Department of National Zoological Gardens.
There are probably more outside. From the windows of the SriLankan Airlines flight that landed on Wednesday morning at MRIA, passengers saw acres and acres of jungle. As the Government continues to expand the township, a lot of this wilderness will have to go. "Elephants are a big problem, the biggest problem," said a Government official in the administrative complex.
None of the passengers, nearly all of them Chinese, on the Beijing-bound flight disembarked. But the MRIA transit lounge was playing host to another group of Chinese tourists who had been unloaded from a SriLankan Airlines aircraft that had arrived from the Maldives. They soon left on the Beijing-bound flight. That would be the only action MRIA staff saw that day.
Hambantota is filling up with infrastructure in anticipation that it will soon be used. Because of the ruling Rajapaksa family's connections to the district, Government officials and even private sector businessmen were reluctant to express an opinion, or to provide a cost-benefit analysis, on the record.
But on the basis of anonymity, many of them offered similar views. A manager of an investment bank who attended a recent forum organised by the Hambantota District Chamber of Commerce (HDCC) said that high-net-worth individuals did not show an interest in the area yet. It would be too expensive to set up an operation from scratch and there was no possibility of making short-term returns.
He suggested that the Government provides incentives to offset the expenses. Still, the market was so underdeveloped that the private sector would struggle to do sales. The manufacturing and energy sectors might benefit from Hambantota. Another businessman said political uncertainty was a concern of investors. "Hambantota development is so closely associated with one political family," he reflected. "What happens if they lose?"
A shipping industry representative who attended the forum was upbeat about the Magampura port. It might not be a hit in the near future but, in future, an alternative port will only help the sector. "I already see car carriers coming in," he said. "There would be serious congestion in Colombo if those carriers were handled there," he said. The Government was concentrating on infrastructure development, not people, said a banker who lives in Hambantota. "There is no housing for anyone who moves there," he said. "What is available is very expensive. I pay Rs. 40,000 a month for the house I live in."
If the Government wanted investors to shift to Hambantota, the schools and other education institutions must be improved. Water shortages could be dire during the dry season. Three supply schemes are being constructed but will take time and plenty more money. These are the Uma Oya diversion project, Menik Ganga (Weheragala) development project and the Ruhunupura water supply project.
Business was slow because the population was thin. There was no initiative to develop the low-level private sector. The proposed night bazaar was a positive step. But the roads were so good now that people visited Kataragama for the day. An hotelier felt that once the expressway was extended to MRIA, "a lot will fall into place". "These things take a long time to mature," he said. "All in all, it will be a good area in five to ten years."
The UDA calls for patience. Infrastructure development, with showpiece projects, is only one component of development. The others are also being addressed. Ananda Samarasinghe, the Director UDA for the Southern Province, says much has been done to resettle displaced populations in an orderly manner, to provide them with facilities and to set up at least one good school. "It takes time," he pointed out. "It's a gradual development."
A uniform complaint was that the Government was not making its plans public. People don't know a lot of things," the hotelier said. "There are investment opportunities there." The manager of an exhibition and conferences company said his Chinese contacts were interested in Hambantota "because of the hype it is creating overseas". "But they don't know what's on offer," he asserted. "There has to be one document telling potential investors what is available and showing off the benefits of investing in Hambantota. Foreigners are interested. The information has to be quick and easy so they don't have to waste time going behind many people. Nobody likes that."
An information technology sector manager said there was "no information flow to Colombo". He advocated regular field visits, grouping investors according to their interests. "We get some information through the chamber and print media, but often it's too late," he said. It could be, however, that the local business community is left out of the race because the Government needs much bigger funds than they can afford to make its mega investment on Hambantota viable.
Wide smooth roads at tremendous cost
The first thing you notice about Hambantota is those roads. They are wide, smooth and mostly empty. They also do not come cheap. The cost of the main expressways (completed as well as proposed) and the two flyovers are published with this article.
Three projects alone have cost nearly Rs. 59 billion: The Siribopura flyover, at Rs. 2.6 billion; the Mattala airport road flyover, at Rs. 3 billion; and the 32km expressway between Hambantota Port and Mattala Airport, at Rs. 53 billion (Rs. 54 billion at the current exchange rate). The last amounts to Rs. 1.6 billion rupees per kilometre.
But a massive outlay of funds has also been allocated for the construction, widening and rehabilitation of many of the smaller roads, as evident from the 2014 Development Performance Report of the Ministry of Finance and Planning's Department of Project Management and Monitoring.
The report gives a breakdown of many B roads along with progress up to June 2014. It also reveals the allocation of respective technical evaluation committees for the project. It shows that to rehabilitate 5km of the Sandungama-Beralihena road in the Hambantota District, a sum of Rs. 86.46 million has been set aside. Another 4.8km section has been allocated Rs. 93.28 million and a third 5km stretch, Rs. 98.98 million.
The report discloses that 3.5km of Rubber Watta road in Tissamaharama has been allocated Rs. 83.46 million; 5km on Bodagama-Angunukolawewa road, Rs. 306.66 million (Rs. 61 million per km); and Rs. 69.2 million for 2km on the Malberigoda-Thiruwangodalla road.
The widening of a 3km stretch of Welipoththewela-Andaragasyaya road has been allocated Rs. 80.57 million and improvement of a 5km section of Ambakolawewa-Morayaya road, Rs. 106.61 million. Many of these projects are being carried out by the Maga Neguma Road Construction Equipment Company set up under the Ministry of Ports and Highways, a portfolio held by President Mahinda Rajapaksa. The company's website provides details. There has been no open competitive bidding process to determine whether the prices being paid are reasonable.
A large amount of funds has also been set aside for internal roads in the industrial village of Mirijjawila, although Government officials said they would not be carpeted until investors move in. "We are putting in gravel roads or we might have to redo them once investors come and there is a lot of construction and related vehicular movement going on," one explained.
Transport experts, speaking on condition of anonymity, argue that road construction or rehabilitation is a positive growth feature. They question, however, whether the roads earmarked for costly development were selected on the basis of economic studies and on how much traffic uses them. They also ask how road construction costs have risen at a much higher rate than inflation.