A dozen dead every two days on our roads
By Kasun Warakapitiya
View(s):
Four years into the "Decade of Road Safety", every day sees six people killed and 50 injured in road accidents.
New statistics show 1,972 persons were killed in road accidents during the first 10 months of this year and more than 16,000 were injured.
Despite the belief that the increase in the number of vehicles was a leading cause of accidents, National Council for Road Safety Chairman Gamini Ekanayake said, developed countries had more vehicles but fewer accidents.
Careless and reckless driving caused most accidents, Mr. Ekayanake said: "People speed and overtake in different ways. They must change their behaviour."
Mr. Ekanayake suggested bringing in laws to give third-party victims compensation.
He also said tractors and other agricultural/industrial vehicles should not be permitted on the roads at night.Mr. Ekanayake said that although road fatalities had dropped over the past two years, from 2,498 in 2011 to 1,972 so far this year, the accident rate was still too high.
"We are not satisfied. More action has to be taken to reduce accidents," he said.
All the points made by the National Council for Road Safety Chairman were borne out in the senseless deaths on Sri Lanka's roads over the past fortnight.
Four people including three security personnel attached to Uva Chief Minister Sashindra Rajapaksa were killed in Mahagodayaya, Buttala when the Defender they had been travelling in crashed into a parked lorry carrying concrete sleepers. The last to die was 34-year-old constable Edirisinghe Arachchige Tharaka Niroshan who lay in a critical condition for eight days before succumbing to his injuries on Wednesday.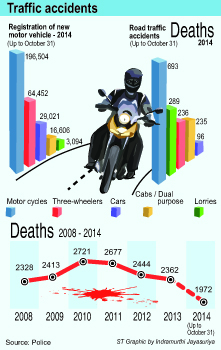 A drunken army corporal and his assistant were arrested after their water bowser crashed into a bus stop and killed a schoolgirl and a woman and injured five other schoolgirls in Medawachchiya. Tests found the two men had been driving under the influence of liquor.
Four youths were killed last Sunday at 7.30am when their party of six, returning from a wedding in Wariyapola, collided with a tipper transporting sand.
This week a retired schoolteacher knocked down a six-year-old in the Ja-Ela area and the child succumbed to injuries on Wednesday.
A three-wheeler collided with a lorry on the Dambulla-Matale road at Mahawela killing a father and son travelling in the three-wheeler. The highest number of fatal accidents – 693 – in the first 10 months of this year involved motorcycles, followed by lorries (289) and three-wheelers (236). More than 5,000 people were injured in motorcycle accidents.Sadly, 21,821 people have been killed and 166,000 injured in road accidents over the past 10 years, according to Road Safety Council statistics.
Analysis of the figures show motorcyclists headed the mortality list in 2011 and 2012 – more than 700 of them dying in each of those years.
There are 196,504 motorbikes on the roads, 2014 registration numbers show.
Private buses have been responsible for a large number of accidents, and one driver frankly admitted a major reason why.
"CTB buses and private buses have to race each other to make a living. Three-wheel drivers are doing the same and accidents occur," said B.K.D. Prasantha, who drives a private bus on the Colombo-Kalutara route.
He also said instructions from drivers and conductors were not being followed and passengers became injured by getting off moving buses and travelling on the footboards.
The bus's conductor, Sudath Dayanada, said he had witnessed three-wheelers and bikes overtaking from both left and right, forcing buses that have to move from the left to the middle of the road.
For his part, three-wheeler driver Fazil Junus said bus drivers must not sound blaring horns from behind other
vehicles. He said drivers get sudden adrenaline rushes, endangering other vehicles and putting lives at risk at pedestrian crossings.
"Pedestrians should obey the law and cross the road safely and police should enforce the law on both pedestrians and drivers equally," he said.
Three-wheelers were involved in 225 fatal accidents claiming 236 lives this year to date.
A CTB bus driver who requested anonymity said most of the state buses were very old with poor brake systems that were a safety threat. He said the government should get rid of the old buses and buy new ones.
Meanwhile former police director of city traffic and retired senior superintendent of police K. Arasaratnam disclosed that police had plans to computerise driver history and obtain fingerprints of drivers to be updated every eight years.
Mr. Arasaratnam said it was critical to implement licence demerit points for erring drivers and also to make rear-seat seatbelts and baby seats compulsory.