Stop building roads in the wet season, says NBRO
By Kasun Warakapitiya
View(s):
The National Building Research Organisation (NBRO) has called on road construction companies to carry out work – including road carpeting – only during the dry season to minimise post-construction problems.
The call came after the banks of the newly-constructed "18-bends road" collapsed, destroying one house and causing another to become uninhabitable due to landslide risk and subsidence, and affecting traffic passing the Soranathota area in the Badulla district.
The road project's supervising engineer, Y.D.P. Kaluarachchi, said the ground there was unstable.Soranathota Divisional Secretary R.M.C. Priyanthi said the inhabitants of the affected houses had been evacuated and would be given compensation. The compensation would be Rs. 15,000 a month and some would be resettled, Mr. Kaluarachchi said.
Ms Priyanthi said road works had caused earthslips during bad weather at several places along that route but the Soranathota incident was the most serious case.
NBRO Senior Engineering Geologist Mahesh Somaratne said road-openings were often timed to coincide with certain events and warned against rushing to keep such deadlines when heavy rains intervened.
Building should not take place during the rainy season, he emphasised, and suggested the NBRO be given legal powers to intervene as well as offer technical support.
The Executive Engineer of Road Development Authority of Badulla, M.S.M. Waleed, denied road construction was carried out in unsuitable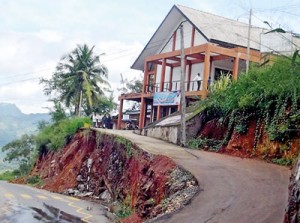 weather conditions.
He said it there had been plans to have an eight-foot-high retaining wall with concrete and the rest of the hill planted with rubber trees but the rains had come before the project was implemented.
"After the earthslip we are now planning to make the retaining wall only to keep boulders from falling on to the road, and nearby residents will be resettled due to safety concerns," Mr, Waleed said, adding that the project was being carried out by a Chinese company and the RDA could not directly intervene.
Mr. Waleed said the two-year project would run into deadline problems and costs would increase if construction was stopped when it rained, besides causing inconvenience to the public.
The NBRO's Mr. Somaratne said all relevant parties involved in planning estimates for road-building projects should include hazard preclusion expenditure in estimates.