Despite evidence police neither see nor hear Govt. supporters' evil
View(s):

Police are yet to make headway in last week's election violence, as one of those injured still remains in a critical condition at the Colombo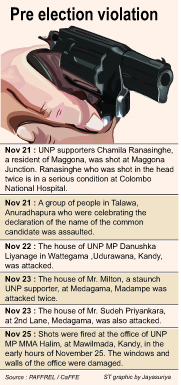 National Hospital.
With under two months for the Presidential election, violence is widespread islandwide. The most brutal of these cases is reported from Maggona, where a United National Party (UNP) supporter was shot and critically injured. The victim was admitted to the Intensive Care Unit (ICU) of the Colombo National Hospital and remains in a critical condition.
Police say they have identified the car used for the shooting and investigations are under way to arrest those involved.
Police spokesperson SSP Ajith Rohana admitted that in the recent election related violence nobody has been arrested, but they have taken sufficient security measures to ensure a violence free election.
Meanwhile, raising concerns to the Election Commissioner, UNP Leadership Council Chairman, Karu Jayasuriya said this week that more UNP supporters and members are being targeted in these election violence.
"People behind the shooting incident in Maggona are roaming free in the area. Police are not taking any action to arrest them because they are Government supporters," he said.
With the announcement of a Presidential election, a series of attacks targeting Opposition party supporters are taking place.
Chamila Ranasinghe, a loyal UNP supporter in Maggona, was shot twice in the head at Maggona Junction, by unidentified persons, while lighting firecrackers in Beruwala with his supporters, soon after the common Opposition candidate was announced.
In addition to this, two shooting incidents again targeting UNP supporters, were reported from Madampe and Puttalam.
Gunshots were fired at the houses of Mr Milton and Mr Sudeh Priyankara from Medagama, Madampe .Mr. Milton claimed that a group of people on motorcycles arrived at his house and fired shots.
Campaign for Free & Fair Elections (CaFFE) said that police have failed to ensure a violence free election.
"Both men were targeted because they lit firecrackers after the former SLFP Secretary was announced as the common Opposition candidate." said CaFFE Executive Director, Keerthi Thennakon.
He said police are not willing to take action, though there is solid evidence such as the vehicle used to carry out the shooting and related CCTV footage.
Following the common Opposition candidate's visit to Kandy, gunshots were fired at the office of UNP MP M.M.A. Halim, at Mawilmada, Kandy, damaging its windows and walls.
Halim told the Sunday Times he suspects the ruling party being behind the shooting, because he organised the visit of Maithripala Sirisena to Kandy, after he declared his candidacy. He has been actively promoting Mr Sirisena and was the facilitator of his visit to the mosque in Kandy.
Details of Northern Province voters resident abroad for a long time are being collected from each Pradeshiya Sabha, by the military, Provincial sources said.