Rural areas will be cheated out of education: unions
By Chathuri Dissanayake
View(s):
A large number of schools across the country with only Advanced Level (A/L) Commerce and Arts streams could be downgraded to primary schools, trade unions claim. The new "1000 Schools Project" aimed at improving the science and technology streams in government schools will select only 1000 schools out of the close upon 3000 schools that offer A/L classes to students, claimed Joseph Stalin, the general secretary of the Ceylon Teachers' Union (CTU).
"There are already 748 schools that offer a science stream and these have been included in the 1000 schools project," Mr. Stalin said. "There are 2038 schools that offer only A/L commerce and arts streams and of these only 252 will be upgraded to offer all four science stream subjects."
The primary sections of the 252 schools would be removed.
Mr. Stalin said the vaunted 1000 Schools Project came down to only developing 252 schools. According to the project concept, however, the Ministry of Education should develop schools that currently lack a science stream, claimed Ceylon Teachers' Services Union (CTSU) general secretary Mahinda Jayasinghe, agreeing with Mr. Stalin's criticism.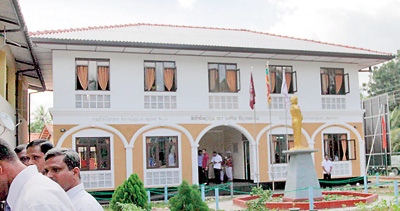 According to the development plan, a network of 6,000 schools would be established. A thousand of these, labelled Mahindyodaya schools, will have classes from grade 6 to 13, while 5,000 more schools will have classes up to grade five and act as feeder schools to the Mahindyodaya schools. The primary sections of the Mahindyodaya schools will be registered as separate schools.
If the schools that offer at least commerce and arts streams to A/L students are downgraded to offer only primary school education a large number of school dropouts would occur, teacher unions critical of the current project claimed. "The students from lower economic backgrounds especially those from village areas will not be able to attend schools far from their villages. Their schooling will stop when secondary classes are terminated in the village schools," Mr. Stalin said.Eight-year-old Tharuka Sewwandi exemplifies this problem. The child walks to school, Ogadapola Vidyalaya, every day with her kiri amma. Her family thought she would be able to get to school easily until she completed her Ordinary Level classes as the school offered classes up to Grade 11.
But due to the new policy she will have to take a bus and travel at lest 6km from her village to attend secondary school. Her school, in the Ibbagamuwa educational division in Kurunegala, has been converted to a primary-only school.  "We will have to admit her into Rambodagalla Central College which is 6km away or to Gibugala Central College, which is 6.5km away," said the girl's grandfather, Rankira Dewage Ranasinghe, of Mahayaya, Pihibuwa, Kurunegala.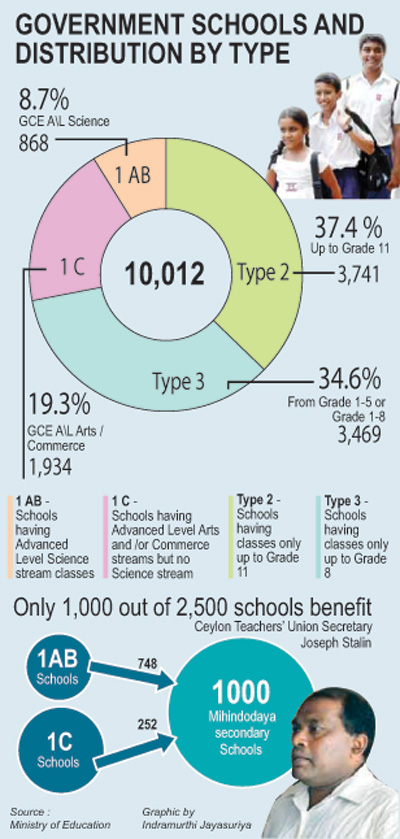 "Her father is a mason and I am a farmer – the bus fare and other expenses are going to make it very difficult for us to send my granddaughter to school."
According to information gathered by the unions, already close to 1,500 schools have terminated their secondary level classes and union leaders warn more schools will face closure as a result of this plan.
"Small schools such as Katukuliyam Kulama Mihindu Vidyalaya, Nelum Kanniya Vidyalaya, Sandamalgama Vidyalaya and Thibbatuwagama Vidyalaya have been limited to becoming primary schools. "They have only about 20 students now and will face sustainability issues soon as teacher allocation and funding for maintenance will be limited due to low student numbers," said CTU President Priyantha Fernando.
The ministry says it will ensure that isolated schools, most which function as primary or secondary schools, will continue despite the current plan. These schools, however, do not offer A/L classes. The fate of the unprotected schools is "bleak", Mr. Stalin said. "There is a great risk of children losing their right to education as they are economically incapable of accessing facilities. The tragedy is this project is funded by the Asia Development Bank (ADB) to develop education," he emphasised. These accusations were denied by Education Ministry Secretary Anura Dissanayake. While 1,000 schools will be developed to have all subject streams at Advance Level whether or not to reduce the classes in the remaining 1C (Arts and Commerce stream) schools will be decided on a case-by-case basis, he said. "We don't have a hard-and-fast rule on the matter: it will depend on the school. Some schools have, in fact, requested us to reduce their classes, so we will see," he said.
Lack of a clear policy and plan was one of the biggest criticisms levelled against the project. "This is being done just for the sake of doing something different and making a name, not to develop the education sector," Mr. Jayasinghe said. "The Minister has given instructions that the Mahindyodaya labs should be built in a prominent place and be visible from the main road, not in a space suitable for such a building. So it is clear that it is a publicity stunt," the CTSU leader said.