Grads complain over promotion chances lost
Delays in receiving teacher posts after recruitment
View(s):
Our years of toil count for naught
About 10,000 graduates who have received teacher appointments two to six years after being recruited are demanding the Education authorities add the total years to the teacher service.
Ceylon Teachers Services Union (CTSU) Secretary Mahinda Jayasinghe said these graduates were recruited in 1994, 1995, 1999, 2005 and 2008 with the highest number – 3,056 graduates – in 1999.
"They were recruited as programme assistants, librarians, optional teachers and teacher assistants. But they were given teacher appointments much later," he said.
According to him, those who were recruited in 1999 were given teacher appointments in 2006. He said that this was after seven years. They have had their promotions delayed and problems arising about their total service years when obtaining loans.
Mr. Jayasinghe said following many requests, the Education Ministry agreed to include the total service years only for calculating the pension.
"But what they need is appointment in the teachers' service. Those who have obtained a degree in 1996 gets the job in 1999, but only gets the teachers' service appointment in 2006 while another graduate who obtains the degree in 2005 receives the appointment in 2006. This is having a depressing effect on those who received delayed appointments,"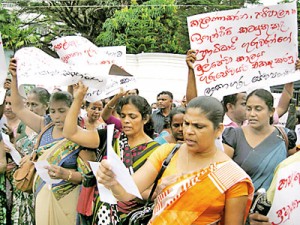 he said.
The CTSU this week organised a protest in front of the Education Ministry demanding authorities take action to redress the grievances.
Mr. Jayasinghe said a petition was handed over to Education Ministry Additional Secretary S.U.Wijeratne requesting a special Cabinet Paper be submitted in this regard.
Mr. Wijeratne told Education Times that the Ministry Secretary Anura Dissanayake is overseas and a meeting between the Secretary and union members and affected teachers will be arranged to discuss the issue.
(NF)