Tennis franchises and tournaments
View(s):

ATP the men's and the WTA women's Annual Tournament Calendar has no new slots available for tournaments. It has scheduled over eighty tournaments in over sixty venues worldwide. It is full. The existing franchise holders have to come up with big prize money, to retain their slots. This year's Wimbledon gave away 10 million pound sterling as prize money, only for the men's events. Any new venues will have to buy the slot from one of the existing 'franchise holders'. To be more precise, ATP or WTA tournament franchises have to be bought and there has to be a pre-determined minimum as prize money. It is not simple anymore. To survive with these price tags, spectatorship, media rights and sponsorships must be guaranteed. To get the act together, most of these events involve a 24-month lead time for preparation.

USA has over 600 tournaments

'Game making' is the final frontier of development. Tournaments are needed to develop 'game-making' skills in players. A strong and consistent tournament competition environment achieves strong development. The US has had an overwhelming number of tournaments up to now. It was considered the secret behind US development which rolled out players for a long time. This has changed. Europe, which is much bigger after the fall of communism, has many tournaments. European domination of Tennis in the recent years is the result of this.

This year's Wimbledon semi-finalist who played Andy Murray, Jerzy Janowicz of Poland matured extremely fast in the European circuit. He played his first 'Futures', which is the step up circuit to 'masters' just 18 months before. This is proof of what good tournaments can do to players. Asia and Africa are at a disadvantage due to the lack of good tournament circuits.

Generally after Wimbledon, world Tennis scene moves to US. If you look at the calendar, the clay court European circuit is still on, after Wimbledon. The 'hard-court' grand slam preparatory tournaments leading to US Open is taking a back- seat. Just as preparation for grass court Wimbledon grand slam event took a back-seat in favour of the European clay tournaments. The European calendar has come a long way to keep the players there even after Wimbledon.

Game change To be effective, surfaces demand the ability to change of game. However good a player's stroke- making is, it is no match to a good game-making skill, to win. US circuit is mainly Hard courts. The hard court has a high bounce and retains a good deal of speed, even after the bounce. This keeps the players well behind the base line. The option of going to net is only possible, when the opponent is outplayed and scrambling to the ball. High bounce of the hard court permits angling to pass the man at net easily. This is another reason why players are reluctant to go to net on hard courts. Fast services have a distinct advantage here. On the whole, the game will be faster and reaction speed will decide the winner on the hard surface. The Indian 'cow-dung' courts were the fore-runner of the hard courts of today.

World rankings and the American season

Who is coming up and who is going down in the world rankings will be seen at the end of this year's American season. The US season is on now and in the last week of August and the first week of September, the US-Open will begin in New York. It will be the last of the Grand Slams for this year. While Isner and Del Potro and a few others are from the Americas, the real challenge is from Europe. We are now witnessing the strength of European, Scandinavian and Balkan states Tennis.

South America is also a Tennis continent, very similar to North America. Mexicans, Brazilians and Argentineans are well known in the elite scene. These have also had Grand Slam winners.

Local Tournaments

In Sri Lanka, the Colombo Championships just finished and our Nationals are due. We are not in a position to attract travelling professionals or for that matter any overseas players. T. Dineshkanthan bagged another title in the Colombo Championships. Major Tennis events without international players are not attractive anymore. A solution has to be found here for the future of our Tennis.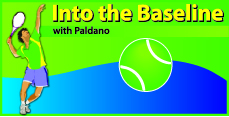 First reason as to why our tournaments are not attractive to foreigners is the absence of world ranking points. Second, even for players who wish to come over for experience will want at least three back to back tournaments to make their effort and expense worthwhile. At one stage, Maldivians came here but that too has stopped. Right now our tournaments are for lower end of the junior age group. It stops there. Not attractive to spectators or media coverage.
We are affiliated to the ITF in London. One of their tournament circuits is the under 18 age group event. Here too they will not give Sri Lanka a higher group like the Group 3 event, unless we have players in the top 100 of the World Junior Ranking. This means, our juniors will have to travel to other countries to get this exposure. Tennis was never a cheap game and getting into the world ranking even at junior level is an expensive venture.
Right now there is no one who is a prospect for men's or women's Junior or Senior world top 200, so we need to change our future focus if we are ever to match up to the world Tennis scene. — George Paldano was an international player; Accredited Coach of Germany, ITF and USPTR. National, Davis Cup and Fed Cup Coach.
georgepaldano@yahoo.com
Follow @timesonlinelk
comments powered by

Disqus