New raincoats
View(s):

New raincoats

Now that the rains have set in the demand is high for those who cover the pitches. These pitch coverers have now been given new raincoats to do their jobs and the sponsors name has been highlighted prominently on these raincoats. Though the cost for the organisers is not too much in this venture the publicity gained through this move is tremendous. The man behind this move is very happy with the outcome.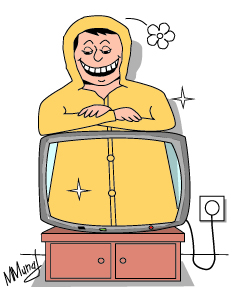 Talk, talk and talk
There is concern amongst sports lovers whether some district coaches are doing their jobs properly. These coaches have the habit of meeting at a special room at the headquarters and jawing to their hearts content. It is said that each coach is receiving a handsome salary of no less that Rs. 85,000 and all they do is talk, talk and talk… without doing the jobs that they have been recruited for.
Currying favours
It is a well known fact that the sport with two wheels is being run by an interim body at the moment. But a person on this body is using letter heads to his heart's content and making full use of all the facilities in order to curry favour with foreign contacts. This can only be boiled down to pure cheating and making full use of the facilities that are available to this official under present circumstances.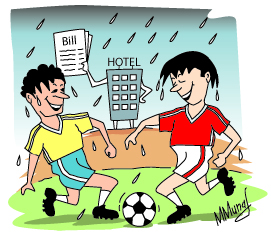 16 in hot water
A strict rule has been brought to the body that is in charge of running and jumping that all officials should forward their bio-data so that they could be filed and kept at their headquarters. It is said that some officials in this set up have no experience at all in the field but pretend that they have a lot of qualifications – which boils down to 'zero'. Because of this new rule 16 officials are bound to be in hot water.
In a spin
Recently the football chaps had a ball in the cool climes of Nuwara Eliya under a foreign coach. They were advised not to come to the area because of rain and that they will not be able to train. Nevertheless the squad took off to the cooler climes and correctly it rained cats and dogs right throughout their stay. The trainees had a grand time and at the end of it presented a thumping bill, which has left the controlling body in a spin.
Follow @timesonlinelk
comments powered by

Disqus