Did you hear the Flower rendition of 'My way?'
View(s):

They say that former Sri Lankan President J.R. Jayewardene's favourite song was 'My way'. This song which is sung or hummed by a majority of successful males in the world was written by Canadian singer-songwriter Paul Anka, but was made a branded signature piece by that great American balladeer Frank Sinatra.

Similarly, Andy Flower who hails from Zimbabwe — the forgotten sibling of world cricket — is right now the Rock of Gibraltar of English Cricket. Flower as coach of the present unit has converted the England team into the most professional cricketing outfit in the world.
English cricket right now is the cock of the walk of world cricket, as far as Test cricket is concerned. Even at the recently concluded ICC ODI Championship, England lost to India by just five runs in a rain curtailed final. Duckworth/Lewis or Swanworth /Lady Antebellum – a rain curtailed one-day match is not a 600-ball ODI played to the full.

On the first day of the second Test, England were reeling at 33 for 3 and a colleague of mine walked up to me with a smirk on his face and broke the news. Knowing the capabilities of this present England unit I replied, "Just wait and see." Eventually England won the second Ashes Test by a huge margin of 347 runs at Lord's.

Just pause for a second. It was not so long ago that England wore the same boots that the Australians are wearing now. Just ask the champion English seamer James Anderson about the 2006/07 Ashes series. He was there facing the same ignominy when they lost the series 5-0 — Whitewash.

When Anderson was asked for his comments on the parallel and if he felt sorry for the Australian dressing room, he replied, "I know the feeling we went through at that time. No I do not feel sorry for them now. We are playing to win and we will just do that."
What's wrong with Australian cricket? They have one of the most vibrant domestic cricket systems in the world! The Australian Centre of Excellence is one of the most planned out, professional outfits that churn out quality products to the national grid.

It is said that even in this present series, in the two completed Test matches, 30% of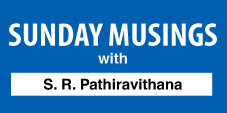 the runs have been scored by the Australian tail-enders. This means they have good complete products in their larder. Leave alone the 19-year-old prodigy Ashton Agar of Sri Lankan descent. Even the other lower-order batsmen did more than their assigned job. When Pattinson, Siddle and Harris were batting, they did look prompt and prepared. They have been coached properly and the point has been sunk into them that they have to trust their willows when the call comes. The Australian tail did not give up their wickets for a dime. They put a price tag on it.
Then what's wrong with the Australian top order? They too have gone through the Australian Centre of Excellence. What we can see is that they lack confidence. The Australian top order right now is playing six individual games with six different agendas.
Then could it be that they have the wrong captain in Michael Clarke?
There are a lot of insinuations that Clarke was at the bottom of the shortened careers of top Australian cricketers. In 2008 Australian cricket fans zeroed in on Clarke as the main culprit behind the suspension of Andrew Symonds.
According to a report in The Age, hundreds of Aussie bloggers demanded an explanation from Clarke and also described him as a Cricket Australia (CA) clone and ruthlessly ambitious leader-in-the-wings.
Three years later in 2011 prolific opener Simon Katich blamed Clarke for his departure from the Australian squad.
Then Mr. Cricket in Australia, Michael Hussey, who stood between a Lankan win on his land, retired when more cricket was left in him. He amply proved his talents while turning out for the Chennai Super Kings in the IPL early this year. But, the poor Australian Test team was humbled by the Indians on Indian soil, a team sans Michael Hussey.Right now the Australian dressing room is not the happiest of places. It is not because they have lost two consecutive Test matches. It is because there is an open rift between opener Shane Watson and captain Clarke. Earlier Watson went to the extent of giving up his vice-captaincy. The poor victim of this spat was former Australian coach Mickey Arthur.
Someone who wants to make an excuse may claim that Australia has not produced a good spinner in the recent past and their bowling attack is not balanced.
Yet, remember, one does not need a champion bowling squad to cut a niche in cricket history. This was proven by our own Arjuna Ranatunga when he lifted the Cricket World Cup in 1996. Though the two Lankan bowling legends Muttiah Muralitharan and Chaminda Vaas were a part of the team, they were just rookies. They were then in the process of learning their trade.Talking of captains – it was only last week that I criticised Dinesh Chandimal for his attitude at the crease and not putting a price on his scalp. But, in the second ODI the young batsman faced the Proteas with a lot of restraint and showed that he possesses that ability too. But, he must not border it on selfishness. He and Lahiru Thirimanne are the next in after the Sanga-Mahela era ends. It is now that they must begin to take control of situations and not play second fiddle to the elder statesmen.
At present the biggest worry in the upper circle is the post-Sanga-Mahela era. Yes, Sri Lanka has good prodigies in Angelo Mathews, Dinesh Chandimal and Lahiru Thirimanne. But, what is protruded now is that these three players are not willing to tap on the door, and say, "Sir, thank you very much," in spite of them being given responsibility. They must be having that cocooned feeling where the seniors keep doing their part of the job without putting pressure on them. But, they must remember that the very seniors did what was required by them. They put pressure on Sanath Jayasuriya and Marvan Atapattu when it came to a crux. Likewise Sanath Jayasuriya and Atapattu put pressure on their peers Arjuna Ranatunga and Aravinda de Silva.
The baton has to pass on; if not, you may end up tripping on the track.
Follow @timesonlinelk
comments powered by

Disqus