Vaas' vision to make Lankan bowlers shine again
View(s):

"A fast bowler is like a soldier. He is the very first person who feels the pulse of the opposition. At the same time he is the very first gauge that the opposition gets the feel of your side. So a fast bowler is like the mirror of your side and he plays a pivotal role in the success of the team."

This philosophy was professed by a bowler who tread upon the cricketing world for fifteen long years, hailing from a nation which is not famous for its tear aways. Nonetheless, Chaminda Vaas was not a bowler who instilled awe in the opposition through sheer hostility, but, a bowler who mastered the art of out-thinking the batsman and hooked the latter the moment he swallowed the bait.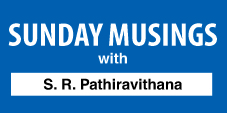 Now Vaas is in the Lankan camp again, but this time not as their frontline seamer, but the mentor of the pack of fast bowlers with a mission to instill his guile in them and make the oppositions respect the Lankan bowling and their capabilities once again.
The Sunday Times musing caught up with this talented Lankan just before he bagan his sessions with the 30-member national pool for the ICC Champions Trophy 2013 to be played in England from June 6 this year.
In the post-Murali-Vaas era the Lankan bowling department was on the decline and during the last series against Bangladesh it hit a new low, which was of huge concern to many.
My mission was to get the opinion of the great Lankan fast bowler of how he accomplished his mission along with Muralitharan and how he intends infusing some venom into the lacklustre Lankan seam attack.
First we asked what he thought of a fast bowler and what his duty in the team composition is. Vaas explained: "A fast bowler cannot be selective. On any surface he has to bend his back and bowl, take wickets and also keep a good control over the opposition."
Then we pointed out that he was not a tear-away. Unlike his compatriots Wasim Akram, Waqar Younis or even the ones prior to him like Dennis Lillee or Kapil Dev – bowlers who counted a lot on speed — he was a bowler who operated between 125km and 135 km, yet ended up with 355 Test wickets and 400 ODI wickets. What was the magic behind it?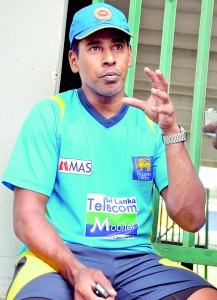 With a wry smile Vaas replied: "When you are a seam operator, either you bowl fast or you swing the ball. So when you are operating at a modest speed, you have to swing the ball. Keep the ball in the right areas, keep worrying him with the right field placings and force the batsman to make mistakes. That is the primary duty of a fast bowler."
The first Lankan player to get a hat-trick in a world cup explained that reading a batsman is also a very important agenda in a bowler's arsenal. "First a bowler has to ascertain if the batsman is waiting to attack you on the leg or the off. A bowler primarily has to take a good look at a batsman's stance. There may be a batsman who is waiting to pull you. Then what you must do is to feed the ball right up." The Musings posed a crucial question. We asked the former Lankan opening bowler about how he and Muttiah Muralitharan forged that association to finish with 1155 Test wickets between them and especially when Muralitharan was an off spinner. Vaas who was expecting the question said: "We had a good understanding. It happened so that we got used to each other and began to bowl from either end most of the time. Then when I was keeping the runs down and bowling tight, Murali used to take the wickets and sometimes when he was not getting the wickets he kept a tight leash at his end so that I could take the wickets from my end. That was the understanding we had.
"Like the batting partnerships, you have to have bowling partnerships as well. We used to talk a lot and decide as to how we were going to operate in a match or a particular inning."
Then we moved onto the present where Vaas has been entrusted with the task of building Lanka's bowling attack so that the country could hold onto its present status in the world arena and also move up. We asked him how he saw his task and what he intends doing to make them a lethal combination. We also pointed out that at present, besides Lasith Malinga, there is no other seamer in Sri Lanka leave alone taking wickets, but controls the opposition's batting flow consistently.
Vaas said: "When Murali and I were playing, we thought a lot. We controlled the game. We led the side while on the field. Though there was a captain it was the two of us who decided how the field should be set. Then what we had to do was to bowl according to that.
"Now there are bowlers like Shaminda Eranga, Nuwan Kulasekera and Suranga Lakmal. They are good bowlers, but they should be allowed to think. They should be allowed to lead. They should be allowed to take control over the opposition their way. But, what is happening now is they are given instructions from various quarters. The result is then the bowlers get confused. What we have to do is to talk to them, give them the onus and tell them that they have to lead the attack for the country. Then you will see them believing in themselves."
He went further on that point and said that "at present where we have gone wrong is our bowlers keep trying to take a wicket with every delivery. Especially in Test cricket it does not happen in that manner."
He said it is a matter of patience and trying your best to outthink the batsman. "The bowlers whom I mentioned earlier have all the ingredients needed to do well, but they must be given the opportunity to carry out the plans that they have in their minds. Make them believe that they are leaders and there is a task that they have been entrusted with. Then the results will begin to flow," he said.
Follow @timesonlinelk
comments powered by

Disqus