As carols and bright lights usher in the Christmas festivities, one group of people- the Ekamuthu Oray Makkal Unity Mission Team is working hard to make this season of peace and sharing all the more special. Plans are being finalized, transport arranged and food, clothing and a lot of love is being stored up in preparation for the Ekamuthu Oray Makkal Unity Camp Three, to be held in Mannar from December 27 to 30.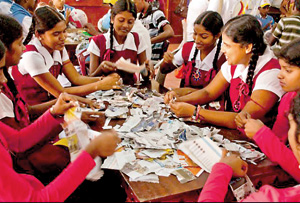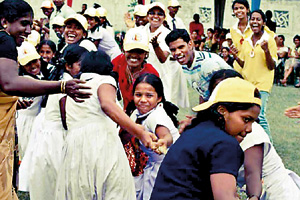 A sense of oneness: Children at an earlier camp
The Unity Mission Team which has been in existence since the end of the war in 2009 consists of a group of professionals, who on a voluntary basis and an inter-faith platform, are committed to working towards achieving unity and reconciliation in Sri Lanka.
Previous projects of the team include reaching out to children in the Menik Farm with milk food and school books, offering small-scale infrastructure support to help rebuild school facilities, provision of school books and footwear and conducting medical camps in Kayts and Viduthalthivu. In an effort to bring together children from different parts of the country, two Unity Camps were held, the first in December 2010 in Colombo and the second in Mullaitivu in June this year.
Now the team is preparing to set off to Mannar. "This project is one of the very few of its kind which emphasizes on leadership development, personal capacity enhancement and integration," says co-coordinator, Bertal Pinto-Jayawardena. They focus on preparing youths to face the challenges of the real world and the demands of the job market, he explains.
Student leaders between the ages of 15 and 20 are chosen from various schools mainly from the North as well as other parts of the country to attend these camps, so that they will be able to go back to their schools and communities and share their experiences and lessons. This year's camp will see the participation of student leaders from all four corners of the country.
The organizers are also determined to make it a fun-filled and rewarding learning experience for the students. "Speech, drama, music and arts and crafts competitions will be conducted with the goal of bringing out hidden talents and developing confidence and leadership among the children," explains Mr. Pinto- Jayewardena. He added that children from these areas who obtained excellent results at the G.C.E. Advanced Level Examinations will also be felicitated and awarded prizes at the camp.
Prior to the camp, participants from the south will attend a workshop which will prepare them to integrate and benefit from the camp. Students who were group leaders at the camp will receive further training in leadership and personal development after the camp.
'That is a long to do list' – but it's far from over. The team also hopes to establish permanent skills development centres in Kayts, Mullaitivu and Mannar. Further, reference libraries will be established and English teaching aids provided to 28 schools in Mannar and Madhu. A similar project was previously carried out in Killinochchi and Mulaitivu by the Team.
In the meantime, plans are already being formulated in the minds of this vibrant and enthusiastic Team for a fourth camp to be held in Jaffna in May/June 2012. Those who wish to lend a hand can do so by being a partner, sponsoring the expenses of one child at the camp or being a long term trained volunteer with the team. For more information the team can be reached at info@unitymission.lk or log on to www.unitymission.lk