Our sixth and final column on parenting coincides with the season for indulgence. Cross the line into overindulgence, though, and you're not doing your children any favours says parenting coach Dr. Maya Cockeram. While it might feel like an act of love to give your kids whatever they want, Maya quotes studies that indicate children who are overindulged will not only become spoiled unhappy adults, but will also develop an imbalanced set of values. They expect immediate gratification, have difficulty owning responsibility for themselves, and have an inflated self-esteem, causing them great difficulty relating to others. Want to know more? You'll find extra tips for battling overindulgence at the new Mums in Colombo website: www.mumsincolombo.com or their page on Facebook: http://www.facebook.com/mumsincolombo.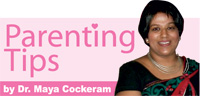 Why should parents be careful not to overindulge their children?
This is a tough time of year to avoid overindulgence. Parents often feel that it is their duty to make their children happy by giving them the best of everything. Yet, instead of happiness, overindulgence frequently results in children who have an exaggerated sense of entitlement. Children who have a total disregard for the value of things (and, sometimes, for other people as well). Children who are insecure or can't make choices. Children who nag, beg, and pester their parents unmercifully.
Child development experts who study the subject say that happiness isn't something you can give a child like a prettily wrapped present. In fact, says Edward Hallowell, psychiatrist and author of 'The Childhood Roots of Adult Happiness,' over-indulged children whether showered with toys or shielded from emotional discomfort are more likely to grow into teenagers who are bored, cynical, and joyless. "The best predictors of happiness are internal, not external," says Hallowell, who stresses the importance of helping children develop a set of inner tools they can rely on throughout life. Research shows that spoiled children are more likely to use drugs, have behavioural problems such as underachieving at school, cheating on tests and skipping school.
Overindulgence is not just about giving your children too much. It can also be about what specialists have dubbed 'over-nurturing' which is doing things for the child, they can and should do for themselves: such as dressing or eating, or having a 'soft structure' where they are not given chores, are allowed to dominate the family, not taught skills, and no rules are enforced.
Can parents reverse the process if they've been overindulgent so far?
Parents can interrupt the over-indulgence cycle at any given moment. They simply need to evaluate the following: 1. The amount of material things given to their kids. 2. The amount of activities they have them in. 3. The establishment and enforcement of rules and chores in the home. 4. Whether they are doing things for their children that they should be achieving on their own.
Gifts cannot compensate for a lack of parental involvement, so spend time with your kids. Giving your children what they want is not synonymous with love or with being a good parent. Most importantly, don't hesitate to say "no" – it can help a child build character, develop tolerance, establish values and set limits.
Where is the line - how can parents catch themselves before they go overboard?
Focus on providing the things your children really need from you; love, guidance, shelter, food, clothing, medical care, and an education. Anything beyond these are 'wants' not 'needs'. Families that are fortunate enough to be able to have domestic help, should still ensure that children have chores to do. Many parents (or their domestics!) do everything for the kids. It takes time and energy to teach a child to tie their own laces, feed, wash and dress themselves but you are helping them to take responsibility for themselves. Children need to be prepared for life in the real world.
Is gratitude something that can be taught?
Gratitude is one of the trickiest, yet most important, concepts to teach young children as they are by nature self-centred. Gratitude requires kids to look outside their one-person universe and understand that their parents and other people do things for them; prepare dinner, give hugs, buy toys. Children who aren't taught to be grateful end up feeling entitled yet perpetually disappointed. Studies show that grateful people report higher levels of happiness and optimism, along with lower levels of depression and stress.
Unfortunately, no one is born grateful, so it must be learned. This means parents have to teach it and this happens by example. Parents must demonstrate gratitude at every opportunity! It's important to teach children to say "Thank you."
How can parents help their children handle peer pressure to acquire the latest gadget?
It can be really difficult for children to deal with peer pressure. Acknowledge the problem and allow your child to express their feelings will help. Perhaps more important is for parents to be able to show they understand by denying themselves the latest gadget too!
Children need to hear the words, "No", "It's too expensive" or "I/we need to think about it", "Maybe when you are older" from their parents frequently. Parents need to avoid the temptation to cave in to bad behaviour. If your child becomes overly demanding, cut back on the giving. Let him be disappointed. Let him have a temper tantrum. Let him think you are the worst parent ever. Trust your gut. Be strong. Do not be blackmailed by inappropriate demands or relentless pressure. Parents need to give their children the tools to earn, not buy, their own happiness, and that tool is not an iPhone!
How can parents help siblings feel secure instead of jealous about what the other receives?
The excitement of receiving and opening gifts on Christmas day can certainly fade quickly when a child turns into a green-eyed monster! It's natural for children to feel envious of another child's toys. To minimize this, parents should ensure that they are being fair to everyone by getting the same amount of gifts of about the same sizes and try to find gifts that each child really wants. If there is a special reason why one child received a better gift than the other this must be explained.
Once again, gratitude can be a powerful tool. Visiting and buying gifts for children in an orphanage or a poor family in the neighbourhood helps children appreciate just how fortunate they are. It's important for children to learn the value of giving than taking, especially during Christmas time.
Do you have any suggestions for small, inventive gifts parents can delight their children with, without having to spend thousands of rupees?
The best kind of toys for children are those that do not use batteries (except torches!), make noises or have bright lights. Toys that require imagination and creativity are always a good bet. Books, building blocks or bricks, clay and modelling dough, cooking sets and board games are all great. For older children there are wonderful science kits available from 4M and an equivalent craft series which is excellent.
The gift of time and the gift of yourself is something most kids appreciate the most. Making memories with your children is a precious gift that is priceless. One thing parents should not buy for Christmas is a pet like a cat or a dog, as these are not toys and should not be treated as such. Remember the saying, 'a dog is for life not just for Christmas'.