"We do have bats," said Chris Suri, proprietor of The Belfry Guest House. He was anticipating my joke based on the American expression of "bats in the belfry" meaning slightly crazy.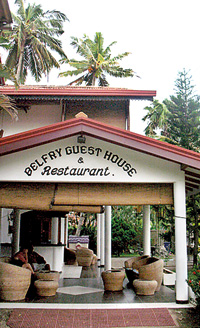 "We have fruit bats. They come for the toddy," Chris said indicating the coconut palm trees surrounding the guesthouse he runs with his wife, Rachel. Located on the landside off the Galle Road on the northern outskirts of Beruwela, the Belfry has been hosting locals and tourists for six years.
Chris, who is an avid golfer, named the guesthouse The Belfry after the golf club of that name in North Warwickshire, which is the UK headquarters of the Professional Golfers' Association (PGA). Although there is no golf course near Beruwela, Chris is happy to introduce his golfing guests to the various links in the island.
The guesthouse is tucked down a lane beside a local bar restaurant that leads in the direction of the railway line. It ends in a small car park at the guesthouse's entrance loggia. Furnished with rugged rattan settees, the loggia is where guests like to chill out and entertain friends.
There is a swimming pool set in the garden and a specially built barbecue oven beside it for alfresco dining poolside. Although it is in a residential area, the property's walls give it privacy from surrounding houses.
The guesthouse has five bedrooms on the first floor, each of them with tea/coffee maker, mini-fridge, television, AC and fan, and attached bathroom with shower. One bedroom boasts a magnificent four-poster bed, and is popular with long stay and repeating guests.
The rooms are cosy, comfortably furnished and have large balconies for relaxing in private. They adjoin an ample lounge with a high wooden ceiling and a gallery view of the restaurant on the ground floor.
The restaurant features a spacious open kitchen and guests can eat whenever they want. "We can do breakfast at any time of day," says Chris. "We want our guests to feel at home. Everything is freshly prepared according to guests' choice."
Non-resident guests are also welcome to dine in the restaurant which, as well as Sri Lankan and Western dishes, features a menu of tantalising North Indian dishes. These are authentically prepared, based on Chris's own inherited knowledge of Nawab cuisine, as originally cooked for the Muslim rulers of princely states in India and Pakistan.
He and his wife act as genial host and hostess of the guesthouse, in the British tradition of a bed and breakfast inn, giving it a warmth and personality that guests appreciate.
A French guest wrote recently on Trip Advisor, "Over the years we have stayed in numerous beachside hotels in Sri Lanka but none(can compare with this small hotel for service and cleanliness. Tucked away some 50 metres from the beach this guesthouse resembles a colonial villa, surrounded by(coconut palms and a myriad of other exotic trees and shrubs which attract many varieties of tropical birds.
"Our spacious air conditioned room was beautifully furnished in Sri Lankan mahogany, the wide four poster bed was so comfortable. The modern bathroom was well appointed with a super shower with HOT and cold(water...
"Neena, the ever smiling housekeeper kept our room immaculate, changing the (high quality) bed linen and fluffy towels daily. The large balcony overlooked the swimming pool and from there we were able to watch the toddy tappers scaling the 100ft coconut palms that surround the hotel."
The guest liked the idea of staying in a typical local environment as it made the holiday much more interesting than being in a beach hotel catering for package tourists. While foreign tourists stay several days, the guesthouse is also popular with Sri Lankans and travellers who stay only one night as part of an independent tour. There are special rates for residents of Sri Lanka, and drivers' quarters are available.
The Belfry is perfect for holidaymakers who want Sri Lankan style, with a charming and knowledgeable British couple as hosts.
The Belfry Guest House, 13/4 Galle Road, Polkotuwa, Beruwela; tel: 034 2276506, 077 6716750; email: thebelfrysl@hotmail.com; www.belfryguesthousesrilanka.com. Double rooms with breakfast from US$60.