Sigmund Freud would have had something to say about this. On November 23, 2001 and living somewhere far away from Sri Lanka, I must have been in a strange and nostalgic mood or someone must have slipped a mind-mending drug into my cheap drink, because on this day I wrote a highly sentimental, cringe-worthy and embarrassingly silly article for my web page.
The article was entitled "Alberta Dahling" (sic!). To my utter surprise, a lot of good people on the www loved it, wrote to me to say how much they loved it and, more importantly, I didn't get any negative or derisive feedback.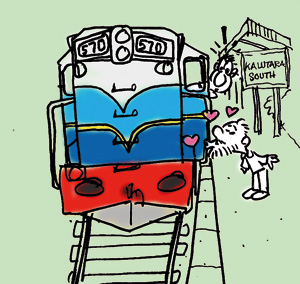 It is exactly 10 years on now and I started thinking about that piece and what made me write such a silly article. Let me get this right!
Sentimental old fool
I must be a sentimental old fool. I wrote that article when I was a "grown up" and 50 years of age and not when I was a starry-eyed and besotted teenager with pimples on my face. Fifty-year-old men are meant to be sensible and they do not write that sort of sentimental trash!
This is where readers of this article can get totally confused and so do let me explain.
For readers not familiar with who my Alberta is, Alberta is a lovely but a rather rugged girl, weighs considerably more than a ton; several tons actually, and she makes a lot of noise. By the way, she paints herself in bright lipstick-type colours including red. Not the sort of girl that parents would approve of.
Alberta is a Diesel Electric locomotive!
Even now I keep on telling myself that there is nothing wrong in falling in love with a Diesel Electric Locomotive. Motoring enthusiasts treat their cars as if they were human beings. They polish them, spend a lot of money on them, admire them, take them out for a spin and maybe even surreptitiously kiss them when their wives are not looking.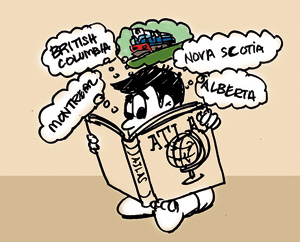 Then there was that famous Volkswagen Beetle, "Herbie" who reached cult status, thanks to Walt Disney Studios, and so therefore why should not trains?
The Reverend T.W. Awdry beat me to it, by a few years, in humanizing locomotives and instilling souls into them and generally making them lovable in the print media. He created Thomas the Tank Engine.
Thanks to the good Rev. and Thomas the TE, young children in Britain know what a Tank Engine is and can rattle off the vital statistics of the said locomotives without ever having seen one in real life.
My little Alberta
Getting back to my Alberta Darling (Vital statistics: No 570, Class M2, Load H), she was the second of the General Motors EMD G12, Class M2 "Canadian Engines" to run on the then Ceylon Government Railway, the CGR.
They, the Class M2 locos, are all over 50 years of age now and all except one, which got destroyed in the war, are still running to this day. I was/am much older than they were/are and that takes me back to the year 1954.
I would have been about five or six years old. We used to live in Kalutara and my late father used to take me out on his battered old bicycle along the Galle Road. One day we heard this thunderous sound of a train and my father stopped his bike to let me see the spectacle of a gleaming blue and white locomotive hauling the "Ruhunu Kumari" train whizzing by.
Who was Prince Edward Island?
At that time there were much more interesting locomotives to spot, notably the "Governor Class" steam locos who all had pompous names like "Sir Edward Stubbs" and "Frederick North" and it took me a while to note that the new Diesel engines were also named…I mean, they had names….if they had names they must be human!.
The first M2 locomotive that I "spotted" was "Prince Edward Island" (No 592) but this name totally confused me, at least for a while. Who is "Prince Edward Island", I wondered.
Eventually, I asked my Mother and she referred me to my Father. Father was a teacher of Geography, amongst other subjects, and immediately enlightened me on Canadian Provinces. The "Prince", was actually the name of a Canadian Province! I then set off on Canadian Engine spotting which was rather easy because I could see the railway line at Kalutara from my classroom, teachers were always late and we had an atlas at home! All the Canadian locos were named after Canadian provinces or cities (except two).
Loco girls!
A few years on, now a teenager, other interests entered my life. These other interests were mostly to do with the girls from the Convent school next to our school. This is probably where the circuits in my brain got seriously cross-connected. I was in love with locomotives but then I fell madly in love with a girl.
I used to meet up with her, that is the girl I fell in love with, at railway stations and thus sub-consciously kept my original love, that of trains, going!
One day somewhere around 1966, whilst waiting for my human girlfriend at Kalutara South Railway Station, I saw one of my non-human girlfriends, No 591 Manitoba, clattering over the facing points on the approach to the station, with her main frame swinging from side to side.
That triggered something in my brain and it, my brain, associated the fact that my human girlfriend, who had broad, child-bearing hips, walked just like the locomotive: Swinging her hips from side to side in a provocative manner.
Keeping track
n The General Motors, EMD, Class M2 locomotives of Sri Lanka are considered to be the "most reliable locomotives of Sri Lanka" by David Hyatt, the author of "Railways of Sri Lanka". All except No 571 "Saskatchewan" are in running condition. Saskatchewan was blown up during the war.
n No 570 Alberta was stranded in Kankesanthurai during the war and was used as an electricity generator by the LTTE.
n When KKS was liberated, Alberta was dismantled, transported by ship to Colombo, repaired and put back on the rails.
n No 591 Manitoba survived the tsunami, was refurbished and is now popularly known as the "Tsunami Train".
n Although production ceased a long time ago and General Motors no longer own EMD, GM EMD G12 locos still continue to operate in many parts of the world under difficult conditions.
The damage was done! I started seriously associating Diesel Electric locomotives with girls!
At about this time things took a turn for the worse in my life. I passed my A Levels to my great surprise and I got a place in University. Most people would have been happy with this outcome in life but not me. Sadly, I realised then that I would never get to be an "Engine Driver".
Somewhere around this time my parents started harassing my human girlfriend. They just didn't like her which was a good enough excuse in those days. This led to she and I having arguments and she decided to call it a day. We parted company. It was her choice.
I took it badly and became totally disillusioned with human girlfriends. No decent locomotive would have done that to me. Not my No 570 Alberta, nor would have my No 591 Manitoba. Worse things were to happen in my life. I fell in love again with another human female and then another and then another one. Finally, after having gained some qualifications as a Doctor, I moved in to marriage.
It all started on a rising gradient, exciting at first but then the wheels started slipping badly. Maybe I notched up the throttle too quickly. The Dark Period of my life was the 30 odd years I spent outside Sri Lanka where I had very little to do with my beloved loco girls. I worked hard on a steep gradient to earn a living and gradually became domesticated. Oh! And my Dynamic Brakes stopped working somewhere along the line….by the way.
Notching up the throttle..
Fast forwarding or notching up the throttle to the year 2009 I find myself 60 years of age and things suddenly get better in my life! I am free! I am now divorced and I find that I can retire comfortably and return to Sri Lanka. Back to the first loves of my life!
This year,on July 19, at 11.31 hrs. exactly and, standing on No 1 platform of Kalutara South Railway Station I met up again with Class M2 No 570 Alberta Darling after a long, long time! It was an emotional reunion.
I actually heard her long before I saw her: the distinctive, loud but harmonious, triple air horns. Then the throb of her big, big, wonderful heart: a two-stroke twelve cylinder 1425 horse power EMD 567 diesel engine.
I nearly kissed her when I saw her! My Alberta Darling! Not many human males get the desire to kiss non-human females of the locomotive type. She, my Alberta, certainly was in good form despite her ordeal in Kankesanthurai during the war years. Tears rolled down my cheeks.
Some things in life do remain… I am single again, retired and no longer have to get up to go to work.
Girlfriends of the human-kind have come into my life and have gone out. Now, re-railed and back on the tracks again, I don't care for them anymore.
I just get up in the morning to go to the railway station. Being an honest sort of person I do buy myself a platform ticket, which costs me all of Rs 10. Then I wait for my lovely girls. Alberta Darling, Manitoba, Quebecky, Nova Scotiana, Ontariana…..