Hilton Colombo: Gerard Mendis is retiring this Christmas. It seems Hilton Colombo is losing its GM. Because for those devoted at the confectionary shrine there is but one GM at the hotel and that is Gerard Mendis. I recall at a party one of his young new recruits imploring I meet her master. An hour later, the queue of audience-seekers doesn't dwindle. Not wanting to feed a celebrity chef's ego I move away. The recruit hauls me back. Fortunately. For it finally strikes why Gerard Mendis generates such unmitigated adoration. And why his Christmas cake is multi-international-award-winning.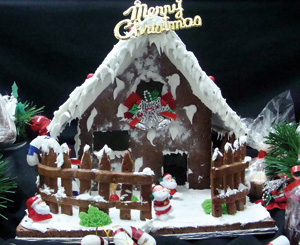 Jetwing Beach: The season's great discovery
Redolent, an elegant mosaic of premium spices, dry fruit and nuts, sugar-shorn, ebriously imbrued in sherry, port and brandy and crafted into parcels of finery or structures upon which marzipan presides like majesty. The country's finest Christmas cake has the quiet beauty of a stained glass window in a cathedral at sundown, not the tawdry dazzles of midday effulgence. As for Hilton Colombo's gingerbread hut, plethoric cookies (star anise, chocolate-chip, oats…), marzipan cubes, brownie squares, nubile nougat sticks enfilade. Ponder over figs and apricots; wallow in Colombo's only edible breudher, leap to mince pies, miniscule and at Rs 280 each, but of incomparable sophistication.
Many marvel at these prices. But Hilton Colombo is a designer product for those with designer wallets (not Bangkok imitations). Some splurge on Christian Dior, others on Gerard Mendis. I avow myself Chef Gerard's most ardent admirer. Yet, his second-in-command, the retiring, diligent Chef Stanley, is amply equipped to sustain French finesse, has, indeed, conducted this season's creations. And yet, one rues the departing GM. To be a great chef isn't too challenging. But to be Sri Lanka's best-loved chef is an achievement.
Galadari: Sheer magnificence! The cookie hut sprawls over a stupendously decorated table, laid in crimson and crystal upon which every displayed delicacy beckons with irresistible enticement. One is arrested. The date loaf lies monumentally, ineluctably, like a date with Destiny. Sultry, softer than a lady's arm, maddening in its fresh-baked fragrance. I'd like to consider myself abstemious but this incredible creation of Chef Nimal Fernando's overwhelmed. I chiselled some crumbs, kept chiselling, goaded by smooth cheeks of loaf whorled in dark, derangingly pulpy dates, crisp nuts and spices, terse on sugar but eminently eloquent in flavour, until I'd depredated a fat chunk. I could write reams and rhymes extolling the wonders of the date loaf, but let four words suffice: This season's classiest confection!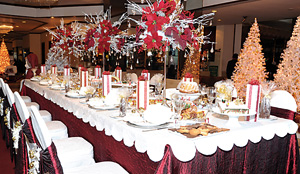 Galadari: In all its Christmas glory
From which I unwillingly tear myself away only to plunge into the Christmas cake: exhilarating with cherries, candied peel, ginger preserve, lime-rind, enormous cashews, sultanas, honeyed, heaving with spices, headily brandied Christmas cake at its most hedonistic. Don't drink Galadari Christmas cake and drive! Reticent Chef Nimal is the unsung hero of Lankan pastry. I find myself pursued by fiendishly fab fruit loaf, lush, lavishly cashewed, gentle as a lullaby love cake, dark chocolate.... Significantly, the quality-cost equation balances. This time, the Galadari has outdone itself and everyone else.
Cinnamon Lakeside: Colombo's plushest, plummest Christmas pudding, like a splendid spice island on a liquor lake. Arrack-infused Christmas cake, interesting, contrasting with its prevalently soft counterparts, is compact and cogent like logic. Love cake is best avoided, unless you like cardboard. But Christmas cookies (chewy gingerbread, superb stinging ginger, crumble-at-touch butter cookies) are utterly adorable, almond dates must-dos, and Colombo's best gingerbread Santa costs Rs. 370. Air Asia's says "Now everyone can fly!" and CLC beckons, "Now everyone can buy!"
Taj Samudra: Love cake is lithe, amongst Colombo's few good ones. Christmas cake and pudding are for cherry-brandy enthusiasts.
Butter Boutique loaves
Jetwing Beach: The season's great discovery! Outstation confections are exceedingly more refined than Colombo's. Fetch this Christmas cake so sodden, exorbitant in fruit and alcohol, yet without sugared indignity. If the Christmas cake and perfect-as-a-peach Christmas pudding are amongst the country's two best, the love cake is unsurpassed. An extravagance of almond (not piercing almond essence), delicately textured and finished in marzipan that tastes of almond and amaretto (not the ubiquitous cashew). Love-at-first-bite-love-cake! Chocolate cookies amaze and homemade chocolate, with Gerard Mendis's, are Sri Lanka's only approaching European class. Perhaps the pâtissier too is Sri Lanka's only approaching Gerard Mendis's class?
Jetwing Lighthouse: Presents a yule log without barrels of sugared cream. A yule tide that won't leave you wide…
Heritance Tea Factory: High on the hills and in the liquor, silken Christmas cake, warm with nutmeg, distinguishing, distinguished. Crisp-crusted love cake is sweet but with a lemony lilt.
Heritance Ahungalla: Dense like packed dates. Sugar-slayed, smoky, cedar Christmas cake. Fascinating.
Gateway Hotel: Flying away? From the roadside goodies shop, pluck and tuck Christmas pudding, then away...
Cynthia Dissanayaka (718248309): "That's Dissanayaka with all As," says Mrs Dissanayaka, boding an A+ for the lady who sweetens Colombo's A list. Mrs D is charmingly old-fashioned: expansive product lists horrify her. She masters or is mistress of Christmas/wedding cake and love cake. Love cake, made to traditional Dutch recipe, soft like sunshine, is immaculate.
Precisely wrapped Christmas cakes already betray a perfectionist's touch. Her girls mix the cakes which she finishes with spices, flavouring and liqueurs, "all depends on it," she reveals, guarding like a state secret her composition. No secret she's doing Ramani Fernando's son's wedding and oft couriers cake abroad. Her Christmas cakes include pricier ones of imported ingredients and local alternatives. "One must accommodate all budgets and palates," she explains, elaborating sugar is diminished for elite orders- for Colombo's cream has finally realised that sweet isn't chic!
Butter Boutique (777760405): Rukshi, resolutely rebellious, repudiates classic Christmas creations. The season of jollity is about frivolity and creativity including French-style friandises: fine, fragile, sugar-restrained madeleines (chocolate, strawberry, lime & coconut, coffee). Mushy chocolate snowballs and chocolate cookies aren't quite French but very gorgeous. Dainty mince muffins replace mince pies and orange cake displaces Christmas cake. Christmas spice or gingerbread loaves, cherry white chocolate brownies, wreath cookies exhibit flair. And then there are triple choc-chip cookies, choc-mint loaves and chocolate-caramel cups as most prefer a dark Christmas to a white Christmas....
Sits(7149466992): The prettiest Christmas hampers in veils of pink and orange bear Christmas cake, brownies sporting Christmas badges, chocolate-chip cookies, marzipan, caramelised nuts... But the butter cookies most exemplify Sita's recipes and her assistant Noeline's delicate touch: resembling little blobs of snow, they melt in the mouth like snow and seem as sugar-free as snow. Mince pies in beautifully textured pastry most exaggeratedly priced 5-Stars fail to attain, come with brandy butter. Her Christmas cake Sita warns I'll find sweet. But Colombo craves them.
Coco Veranda: Teetotaller's sweet fruit cake- seasonal spirit without alcoholic spirit. Christmas muffins bear cherries, spice, almonds. Date is the flavour en vogue. Have Colombo's best date cake marzipaned like a carpet of snow that leaves on carolling, "Give me more!"