It takes only a few minutes in real life to establish that Rohini Nanayakkara is a woman of purpose. Proudly so, in a formidable yet rather restrained and gracious way. That is something only people of presence can command.
In our parochial chauvinist society this might very well be disparaged as an iron persona (think Thatcher, CBK and Indira Gandhi) in various forms of bar/board room defeminisation. For male counterparts the authority figure is romanticised as charisma. Brashness and bravado too are in this lumpen euphemism.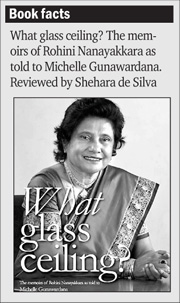 Who cares ?
Women of Power transcend these petty insecurities of gender hierarchies and the ceilings that are set through semantics and other cultural cues. Silly stuff in a scheme of things that are predestined on a grander scale. Success is after all a mind game; even in the older order where career woman straddled work life with greater balance and less sexual power play.
In "What glass ceiling?" Michelle Gunawardana deftly establishes at the outset , in a tone setting exchange, the no-nonsense, let's-get-cracking approach to life and circumstance that Rohini Nanayakkara adopted in the male bastions of power, as an equal and often path-finding player. Rather than a statement on gender discrimination, the title of the book itself is a telling reflection of her attitude to any and all obstacles in her path.
The intriguing and nonlinear biography of Rohini the corporate persona is captured through a small but immensely readable set of interviews and commentary. They trace the journey of this woman of purpose and leave in their wake a portrait of an immensely capable leader in our financial and corporate community.
That she strode through these corridors with a mix of grit and sensibility, from a platform of a government bureaucracy that she helped re-engineer, is in itself amazing. Her persistence is reminiscent of women like Viviene Gunwardene and Florence Senanayake, though Florence was perhaps in a league of her own, given the era and the political paths she strode. Rohini Nanayakkara too was someone who kept to her own beat. Raising the bar or imploding the glass-ceiling, if you must insist on the set paradigm.
The choice of Michelle as writer of this tale is apt. Biotechnologist turned banker turned scribe, Michelle the writer has already brought to us the "The women behind your label": portraits of the rural women working in garment factories who transcended circumstance to be role models and beacons in their workplaces and communities. Stories that brought to life the flesh and blood realities of these spirited women. In her private life Michelle races sailing boats on the local and international circuit, and has won many awards together with her husband. Pragmatic and astute, in her own tough but quiet way, she would have the sensitivity needed to understand and capture what went on in this world of business and banking.
Rohini was born in the last decades of British Colonial Ceylon, her father Murukkanadurage Amarasena Wijeyaratne was a doctor in Government service, who moved his family around from station to station, in the process giving Rohini a good grounding in managing change and adapting to different surroundings. In fact Rohini moved house and school nine times in her first fifteen years. From Raththota in Matale to Lunawa Moratuwa and then to Akuressa where her father, a seemingly introverted man who despite being devout Buddhist had developed an admiration for the rigour of Christian schools, sent her to Ratnapura Fergusan High School, a Baptist school run by two English principals.
Later it was Kegalle and St. Joseph's Convent, a Catholic School run by Belgian and Irish nuns. There she recalls how she was imbued with Irish folk mythology and Irish folk ballads. Of her years in Kegalle she describes harsh memories of a bad outbreak of Malaria that her father battled with in the hospital and starkly recalls many children dying. Little vignettes of living history that add to the socio cultural value of the book.
Her next move was to Newstead Negombo and exposure to the leadership of another English headmistress. At fifteen some stability kicked in and she moved to a bastion of Christian girls' education, Methodist College.
These early years gave Rohini a strong grounding in diversity, and a worldview that ranged from the eclectic mix of foreign teachers balanced by life in village surroundings. This possibly set in place some key factors for her capacity to go into unknown challenges and meet them head-on, and the mix of cosmopolitan self-confidence and humility and simplicity that have framed her world views. She also says that the constant moving taught her lessons in detachment from possessions, which she constantly needed to move away from (though she laments ruefully that this admirable trait was lost in later life).
The book has some lovely imagery from her school holidays at her grandfather, "Pappappa's" house in Randombe with memories of travel in bullock carts and in his old Chevrolet, where neighbours included Dr. Colvin R. de Silva and C. P. de Silva.Rohini graduated from that idyllic haven of intellect and civility, Peradeniya University in its halcyon days in 1959. She was fortunate to have tutelage from some "brilliant people like Fr. Pinto, Prof. Arasaratnam , Ian Vandendreisen and H. A. D. S Gunesekera".
Here, the memoirs break off abruptly to take in some interesting tributes from her colleagues and friends that add a whole new perspective to Rohini. A device used as breaker in the book's format, that lends it an inside-out, outside-in perspective. Manouri Muttetuwegama for instance says, "she is good sense incarnate- very good at sizing people up and making balanced assessments of people and situations... She has an extraordinarily tidy mind… her drive, determination and consummate professionalism is balanced by a healthy sense of fun. She is a perfectionist but without the migraine headaches!"
Or take the rather touching tribute from her sister Delecia Karunaratne –"My sister cares deeply for the people around her… She always keeps her promises and sees anything she undertakes through to the end.." or the succinct description of her as a wife and mother by her niece Eesha Speldewinde… "my uncle Cyril adored Rohini and was extremely proud of her….. I have never seen anyone juggle work and family life as well as she did."
From there on, the third part of the book moves to her professional career as she rose from one of the first two women that the Bank of Ceylon recruited (and one of the first women bankers in Sri Lanka), to breaking down invisible barriers of prejudice or ignorance in her work life in a classically understated almost business-as-usual manner.
Woven amidst the iconic moments of the Bank are events in national history, such as union uprisings and J VP problems. The transformation of bank strategy with Rohini at its helm during the period 1989-1995 propelled an amazing swathe of pioneering innovations and firsts to the local banking industry. The milestones include: "the introduction of cheque guarantee cards, commercial paper issuance, asset securitisation, forward rate agreements, interest rate and currency options and fixed and floating rate deposit products. The bank also launched its first unit trust, introduced credit cards, ATMs, and women's and children's savings accounts, built a stronghold in SME credit, and expanded across Asia into India, Pakistan and Nepal."
RN battled through and survived a potential threat to her reputation with allegation and an investigation into a technology upgrade she had carried out at the bank. She was cleared of wrongdoing but the episode described in some detail shows another truism of successful corporate leaders, that they have consistently had champions who helped open doors or had the faith to back them and stand by them during times of duress. Rohini specifically acknowledges the strong and supportive boards or Chairmen that allowed her to come into her own.
Later too, with her stint at Seylan bank, she stayed on long enough to get a Fitch rating of A- (a first for that bank) and add value and some process stability, but knew well enough to bail out before the bank fell into greater disrepute. Timing of entrances and exits is a hallmark of how fortuitous circumstance help successful leaders. (This is no doubt an extension of the treatise that Malcolm Gladwell should make in a sequel to his book Outliers, where he analyses great leadership as something that happens at a point when the most conducive environment is in place for such leadership to bloom!)
"What glass ceiling?" is an easy read for a corporate memoir, a must-read as a portrait of an industry path breaker, and as a record of a critical period in local banking history. As a window into the personal life and character of a woman of power, it is in many ways charming in its candour of tone and context.
I must end this review however, on a more personal note. I have known Rohini from afar as an iconic woman business leader who broke boundaries beyond gender and game changed an industry as no man had at that time or for that matter (in some aspects) since. I have met her subsequently, socially in the company of another powerful woman business leader, Sumi Munasinghe (a close friend of hers and a former boss and mentor of mine from my Anchor days), and have seen another side of the RN persona. A good friend, a caring community person, a fun person who likes to travel, coddle her children or, as the memoir says, spoil her dog Max.
I have also come to know of a simple but tough woman, who grappled with her husband's debilitating illness with courage and grace. A particularly poignant but courageous private battle that she barely mentions in this memoir, but perhaps resonates with me in particular, and defines Rohini Nanayakkara as a woman of sense and sensibility who strode the parochial corporate world of Colombo and yet remains intact to ultimately embody the essential archetypal woman that nurtures and protects when most needed.