Thrice a year, Prof. Anil Gupta goes for a very long walk – his 'Shodh Yatras' can take 10 days each and he and those accompanying him (sometimes as many as 100 people) will cover about 250km. Their quest is startling – unfolding as it does far from the elite university campuses and the corporate R&D offices of urban India. They are in search of great new innovators and Prof. Gupta knows from long experience that they are to be found in the most unlikely places.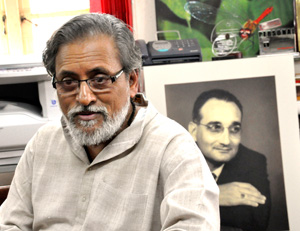 Two ideas men: Prof. Gupta makes a point seated in the late Ray Wijewardene's office with his portrait in the background
Accordingly, the 58-year-old has trekked down into isolated Himalayan valleys, spent nights in arid desert lands in Rajasthan and walked into 'hostile' tribal villages in Bihar where even the military does not dare to go. Carrying the bare minimum, they have bathed in glacial run off and kept warm with hay when their sweaters did not suffice. If there was no structure to offer shelter, they would sleep out under the stars, with plastic sheets for mattresses.
"In the summer we go to the places that are hot, and in winter we go to the places that are cold," Prof. Gupta tells me. When I point out that that seems counterintuitive, he says, "If we did the opposite, then it would be a picnic." He sees his approach as a powerful statement of sincerity and commitment – "When you go to people with a little discomfort and suffering, they don't ask you why you have come. They understand that in 47 – 48 degrees temperature, when someone comes walking, they must be genuine, they must have a good reason."
And he does. Prof. Gupta is famous for founding the Honey Bee Network in India in 1988 (he received India's Padma Shri award in 2004). The organisation finds and nurtures grassroots entrepreneurs. Many among them embody what Prof. Gupta believes should become a universal approach to design: these are clever solutions to real world problems, that are affordable, accessible and sustainable. His organisation also embraces the idea that not only can these creations find widespread commercial applications, but that their creators deserve a piece of the pie and recognition for their work. Hence the organisation offers not only financial support, but also helps file patents, builds prototypes and connects innovators with entrepreneurs and government organisations.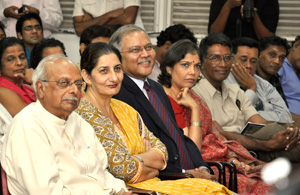 A section of the distinguished audience at the oration delivered by Prof. Gupta. Pix by Susantha Liyanawatte
In the near future, products designed by entrepreneurs who are part of the network will find their way onto the shelves of stores that belong to the mammoth Future group – the name behind successful Indian chains like Big Bazaar – but today, Prof. Gupta is pleased that a Sri Lankan company has expressed interest in buying the rights to the Coconut Tree Climbing Device designed by M. J. Joseph from Kerela. Though Mr. Joseph has passed away, Prof. Gupta knows his widow could use the money.
Other creations have received as much attention – there's the amphibious bicycle that Mohammad Saidullah named Noor after his wife – it allows its owner to cycle on both land and water. There's also the foot-pedal operated washing machine, the mobile phone-activated irrigation pump, the travelling scooter powered flour grinder, the micro-windmill battery charger, a hoe powered by a bicycle, the car that runs on compressed air and the pressure cooker cum coffee percolator. In fact, there are well over 15,000 inventions and you'll find them all up on www.nif.org.in , where another one of the principles that Prof. Gupta holds dear to his heart is perfectly illustrated. Advocating complete transparency, the site offers a precise breakdown of how funds have been allocated.
Prof. Gupta's oft repeated mantra has been 'minds on the margin are not marginal minds', and when he first formed the Honey Bee Network it was out of sense that as part of the system he was part of the unacceptable exploitation of India's poor. Today he is instead part of their empowerment. Besides the obvious financial benefits, he's seen entrepreneurs who received awards from the Prime Minister return to great acclaim in their villages, and he knows too, the satisfaction they receive from seeing their inventions change lives. He is a fierce opponent of the idea that poverty and a lack of formal education makes a person fit only for manual labour.
Sharing this philosophy are The Society for Research and Initiatives for Sustainable Technologies and Institutions (SRISTI), the National Innovation Foundation (NIF), Grassroots Innovation Augmentation Network (GIAN) and 8 other organisations that make up the Honey Bee Network. And together they've begun throwing their net out ever further. Prof. Gupta is convinced that we in the region are ruled by our colonial legacy – that we must shrug off a Eurocentric thought and instead re-imagine the very framework our societies are built on, rooting ourselves instead in the ethics of Asian philosophies. So, they have welcomed engagement with innovators from China, Indonesia, Malaysia, Philippines and even Sri Lanka - Prof. Gupta participated in a workshop on Grassroots innovation in Colombo in 2007 and says he's seen projects submitted by local entrepreneurs.
This time, he was invited here by the Ray Wijewardene Trust to deliver the inaugural Ray Wijewardene Memorial Lecture. But well before the invite, Prof. Gupta had been in correspondence with the man himself. He shows me a letter in which Ray expressed his admiration of the Honey Bee newsletter (which is published in eight languages and distributed to 75 countries) and asked for information on the chekku, the traditional 'mill' powered by bullocks. Fittingly then, we meet today in the office of Sri Lanka's 'Renaissance man'. Prof. Gupta is unsurprised to hear from Ray's daughter Anoma that her father struggled with a sense of failure. It's something he himself is not immune to.
He tells me that he had hoped to see the movement bring forth a new kind of human being – wise people in step with the natural world and with each other. That self centred thinking and short-sightedness still cripples us all is something that has given him more than one moment of despair. Questioning what he has accomplished, he knows his passionate engagement with his vision has sometimes come at a high cost – his family in particular have had occasion to miss him. Unfortunately, when "everyone expects you to sustain their spirit, it is not possible to reveal your own doubt to them," he confesses wryly. Still, he has found sustenance both from within and without: a poet, Prof. Gupta finds writing cathartic and knows joy in the many successes of the Honey Bee Network and the people it inspires every day.
He invests his hope now in future generations. Children he believes are natural innovators who must be nurtured. Seen through fresh eyes, new solutions to the world's many problems may yet be found. "We just need to remember that for it to be good, to be sophisticated, does not mean it needs to be complex or costly," he says.