Vade Mecum is, of course, not a recipe for lentil snacks (vadai) but something which also can be chewed on and digested. It is a book recently published by Neptune Publishers under that title which is a Latin expression that has found its way into the Oxford English Dictionary. Literal meaning they say is 'Come/go with me' Vade (vah-day) is a shade from "Quo vadis, Domine?" The author's translation is 'Be my companion'.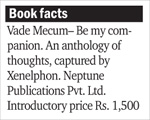 The author is one of the final generation of local classical scholars tutored once upon a time by the irrepressible Don, Prof. J.L.C. Rodrigo (alias Adonis). Vade Mecum is an anthology of thoughts captured over a lifetime of readings and listening – 'what oft was thought but never so well expressed' – at times verging on the sublime (humility is the crown which makes a man a King) through the irreverent (Is a plunging neckline a booby trap?) to the ridiculous (How can a dark man get yellow fever?)
Indeed, Vade Mecum is not a book to be put away on a shelf but should be kept handy on the bedside table to be dipped into at leisured intervals. The 230 page hard cover book is presented in a rather uncommon manner where excerpts are printed zigzag in two colours on the cover. At the end of the book provision is made for the reader to make out his own index.
Sale of books is by appointment. For further information call on 011 2384027 or 071 8610327.