As the countdown to the crucial third phase of the local government (LG) elections begins, both the ruling and opposition parties have upped the tempo of their campaigns. While, the Government woos voters with its development plans, the opposition parties say they are grappling with election violence and election law violations that have put them at a disadvantage in the campaign.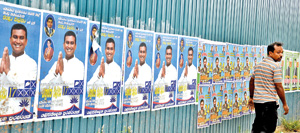 Peliyagoda road construction site covering plastered with election posters. Pic by Susantha Liyanawatte
The main opposition United National Party (UNP) and the Janatha Vimukthi Peramuna (JVP) accused the Government of misusing State resources throughout their election campaigns to influence voters.
They also charged that their candidates were facing various obstacles during their campaign but their complaints had been largely ignored.
UNP General Secretary Tissa Attanayaka said two candidates contesting the Kolonnawa Urban Council were attacked and their propaganda offices destroyed. He said the party had brought the matter to the notice of the Elections Commissioner and the DIG in charge of the Elections Secretariat.
Mr. Attanayake also charged that the UPFA was misusing state sector transport for party work while free food was offered at Dansals at Temple Trees to people in clear violation of the election laws.
Similar frustration was expressed by Democratic People's Front (DPF)'s Colombo mayoral candidate Mano Ganeshan. He said his party's members were facing problems at their election propaganda offices in Colombo and Kolonnawa.
"Our candidates receive threatening calls. Goons visit our election propaganda offices premises and threaten our supporters. Our candidates are prevented from carrying out house-to-house campaign," Mr. Ganeshan said.
He said they had made police complaints but there was little help from the law enforcement authorities.
Mr. Ganeshan charged the ruling party was misusing state property and facilities such as the state media for election work.
Despite such terror tactics, Mr. Ganeshan said he was confident that voters in Colombo, Kolonnawa and Dehiwala-Mt. Lavinia would back the DPF. Nava Sama Samaja Party (NSSP) General Secretary and Dehiwala-Mt. Lavinia Mayoral candidate, Dr. Vickramababhu Karunaratne, told the Sunday Times that election law violations were taking place with posters of some UPFA candidates being put up on most of the lamp posts as well as on three-wheelers. He said the rules were being broken openly in the Dehiwala -Mt. Lavinia area.
"Earlier the misuse of state resources was carried out in a subtle manner, but now it is being done openly, violating all ethics," he said. JVP Propaganda Secretary Vijitha Herath said his party candidates had not faced any major threats or intimidation but he would not say there was fairplay because UPFA candidates and supporters blatantly violated election laws.
He charged that police and the Elections Commission were not taking effective actions to check election law violations. "Most UPFA candidates are using cut-outs, posters and other decorations. In a majority of the municipal council areas they are having a large amount of illegal propaganda offices, one of which, we must especially point out is in Beruwela," he said.Large number of private vehicles and State vehicles are illegally being used for election campaigns by the candidates, whereas only one vehicle can be used by each candidate for propaganda purposes, Mr. Herath said.
He was optimistic at the outcome of the polls for the JVP.
"Our target is to secure a maximum of three seats in all the municipalities, and the responses by the people have been very positive. Since the Government has no proper solution for the economic and social problem of the people, they are readily responding to us," he said.
UPFA General Secretary Minister Susil Premajayantha said the Alliance is fielding new candidates for the upcoming elections. "They have a difficulty, as election laws prohibit the display of cut-outs and posters. They are thus deprived the opportunity of displaying their numbers due to this, and it may lead to them losing preferential votes," he said.
Commenting on intra-party violence, he said, there were some isolated incidents reported, with those involved being advised and the situation brought under control. Minister Premajayantha revealed that his party candidates have been strictly advised not to misuse State resources, and related complaints have consequently reduced.
Meanwhile, PAFFREL Executive Director Rohana Hettiarachchi said that complaints relating to election law violations and violence have risen to 50, which include assaults, threats and intimidation and damage to vehicles and properties.
The Elections Commissioner has notified all party secretaries as well as State institutions, as the campaigns began, that misuse of State resources is against the law, but they have been largely ignored.
UNP's mayoral candidate Muzammil launches "Vital Vision for Colombo"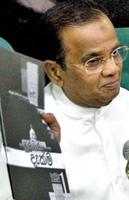 Muzammil at the launch. Pic by Athula Devapriya
UNP's mayoral candidate for Colombo, A.J.M. Muzammil launched his election manifesto titled, 'The Vital Vision for Colombo', last Thursday.
Some of the issues he pledged to address if elected Mayor would be dealing with the problem of urban dwellers, poor infrastructure and garbage disposal.
He also said that a metropolitan transport system would be put in place, as well as cycle lanes, along with a beautification programme of the city.
He further added that better facilities would be provided to senior citizens and persons with disabilities.