A heart attack victim who was taken to the Badulla General Hospital by distraught relatives believing he was dead, was 'brought back to life' by the timely intervention of a doctor who wanted the patient examined, before dispatching the body to the mortuary.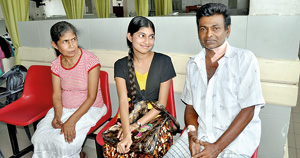 Linton Gamage, the lucky patient with wife and daughter
The hospital's minor staff had loaded the man's body onto a trolley when he was brought to the hospital, and was wheeling him in when the doctor had come rushing, only to be told that the man was dead, and it was unlikely that intensive care would be of any help. However, the doctor had decided to examine the patient to make sure the man was dead.
"By the time I saw the patient, he was not breathing, his pulse could not be felt, and his eyes had dilated - all the signs of a dead person. However, the medical personnel present gave the necessary first aid to the patient, but he did not respond immediately. The medical staff did not give up but continued with further treatment, and then the man suddenly started breathing, Dr. Palitha Rajapakse, who led the team, said.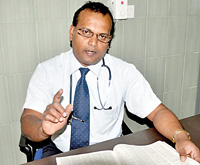 Dr. Palitha Rajapakse: Timely intervention by him and team saves a life
Linton Kuda Gamage (55) of Hali Ela, the fortunate patient was recovering in Ward 33 of the Badulla Hospital, when he spoke to the Sunday Times correspondent. Mr. Gamage said he had developed a chest pain while engaged in some renovation work in his house, and all he remembers was being put into a three-wheeler by his wife and daughter, to be taken to hospital.
"I passed out after that, and when I got up, I was in hospital," he said.
His wife Sheila Kumari said her husband had stopped breathing while they were bringing him to the Badulla Hospital in a three-wheeler, and she was certain he was dead. "When we arrived at the hospital, two members of the staff there lifted him onto a trolley. They also said he looked dead," she said.
As the mother and daughter clung to each other in grief, they saw Dr. Palitha rush towards the trolley and asked the patient be brought in soon. "A little while later the doctor came out smiling and told us that my husband was alive. We were so happy to hear the good news," she said.
Cardiologist Dr. Chinthaka Hathalahawatta, who examined the patient, said he was on the road to recovery. "He had a heart attack, but timely medical first-aid saved his life."