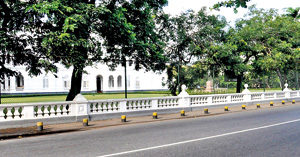 The Sri Lanka Council of Archaeologists has objected to a decision to pull down the short boundary wall fronting the Colombo National Museum. In a letter to Defence Secretary Gotabaya Rajapaksa, the council says damage done to the wall would affect the beauty and grandeur of the museum. "The Colombo Museum's architecture is one of the best in South Asia. The museum was designed by famous architect J. P. Smither and opened in 1877," the letter said.
In a separate letter to the President, the National Museums Advisory Board points out that the boundary wall facing the National Museum was declared a historical monument in a 2002 gazette notification and should be preserved. In addition, the wall helped to cut down pollution from the road that could damage sensitive museum exhibits, the letter said.
Signatories to the letter include National Museums Advisory Board members, the Ven. Elle Gunawansa Thera; Professor Sarath Kotagama; Professor T. M. Pallewatte; Dr. Senarath Dissanayake; Dr. Lakshman Jayaratne; Dr. Rohana Lakshman Piyadasa, and Hemanalin Karunaratne.