Organisers of a ceremony to unveil portraits of Heads of Government and Heads of State of Independent Sri Lanka, at the Colombo Municipal Council (CMC), defended their decision not to include the portrait of the country's first President William Gopalawa, as only Heads of State elected after 1978 qualify.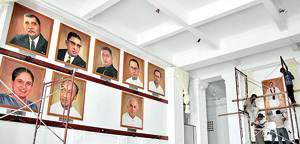 Special Commissioner- CMC, Omar Kamil who sent out the invitations for the ceremony to be held tomorrow evening at the Town Hall, said that only elected Heads of State and Government, who served since Independence, will have their portraits unveiled.
Gopallawa, who served as Governor General and later became the country's first president, after Sri Lanka became a Republic in 1972, will not be included as he held a post that was largely ceremonial.
Mr. Kamil said that, the decision, on which leaders to include in the portraits, was made by those serving in the Special Commission of the CMC.
"Only portraits of Heads of Government from 1948-1978 and Heads of State from 1978 to date are being unveiled at the ceremony, where Prime Minister D.M. Jayaratne would be the Chief Guest," Mr. Kamil elaborated. All portraits unveiled will be bust size, while that of President Mahinda Rajapaksa will be a full length one.