A boy, despite being born without any fingers on his right hand, gained 186 marks at the Grade 5 scholarship examinations, to emerge sixth best student in the entire Matale District. Supun Shaminda Jayasinghe, a student of Paldeniya Mahinda Model School was born with a defective right arm, as well as minus all the toes on his right foot, but had not allowed his disability to be a handicap to him in anyway.
Supun with his father (right) and principal
"From the time I was young, I learnt to do things on my own. When I started school, the other children were curious about my disability, but the Principal and my class teacher both encouraged me, telling me to ignore my physical defects, concentrate on my studies and grow up to be a good human being ," Supun said.
He took their advice to heart and engaged in both studies and sports. While most of his classmates took extra classes after school hours, to prepare for the scholarship exam, Supun studied at home, and followed a class conducted twice weekly by one of his teachers L.G. Wickremasinghe. "I did not take the examination very seriously. I spent time playing as well," he said.
Supun was inculcated the value of reading by his father Nihal Jayasinghe, who made it a point to daily bring home a newspaper. "I read the newspaper and learnt about what is happening in the world. I also fulfilled my duties as the prefect of Grade 5, without letting it interrupt my studies," said Supun, whose ambition is to be a lawyer.
The school Principal Ranjith Dayananda, at the helm since the school re-opened in 2009, after being closed for nearly 10 years, takes great pride in his students' achievements. "In 2010, eight of our students passed the scholarship exam, and this year, 13 passed it. The progress of the students of our school is very clear, despite the odds facing them. These students have become an example to all schoolchildren in the country," he declared with pride.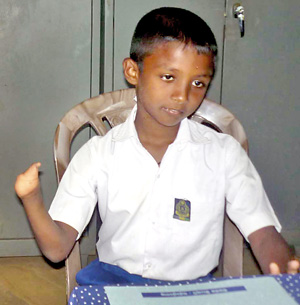 Supun: An example to all schoolchildren