Drunk drivers beware. Traffic police are adopting tough new measures including more prsonnel on the job to net in those who get behind the wheel after consuming alcohol and impose stiff penalties on those found guilty, the Sunday Times learns.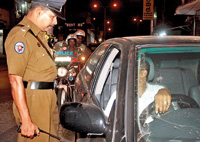 Policemen on the lookout in Colombo city. Pic by Nilan Maligaspe
This comes in the wake of an alarming increase in the number of accidents caused by drunk drivers with more than 8,000 offences recorded in the first three months of the year and the trend continuing, Colombo DIG Anura Senanayaka said.
In the past two weeks 70 cases were detected in the Colombo city area. "When Traffic Police apprehend motorists under the influence of alcohol, many of them drop names of VIPs including politicians, and try to get away. But we have strict instructions from the Defence Secretary that such drivers should be taken to Court and impose the relevant penalties," the DIG said.
The cause for almost all fatal accidents in the Colombo city limits has been drunk driving with several hit and run cases among them he said adding that the majority of detections are made on Fridays, and weekend between 10 p.m. and 1 a.m.
"When we suspect drivers we make them undergo a breathalyzer test. If they refuse to do so, they are presumed to be guilty and are charged," a police officer told the Sunday Times when we joined one of the special teams deployed to track down drunk drivers in the Dematagoda area.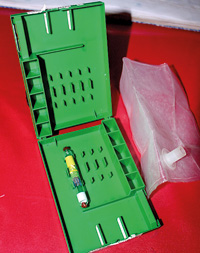 The breathalyzer
Each team comprising four policemen are deployed along by- lanes, a short distance away from traffic signal lights. "We change our locations every half hour so that we can be one step ahead of the offenders," the policeman said.
Plain clothes policemen are also stationed near night clubs to tip off colleagues to keep an eye on vehicles that leave such places. In most cases, the motorists pull over when signalled to do so but last week a man suspected of driving in an intoxicated state defied the Police signal to pull over, forcing the men on duty to fire at the tyres of the vehicle," the DIG said.
He said police bail is not granted to those charged with drunk-driving and the suspects are only released after being produced at the Traffic Courts.
The penalties range from fines between Rs. 3500-Rs. 7500 while the licence of an offender can be suspended for up to three months while a term of imprisonment too can be handed down for endangering the lives of others.