Sri Lanka and India conducted a series of naval exercises off the eastern coast of Trincomalee, the first since the end of the war, amidst protest from regional politicians in Tamil Nadu. The exercise codenamed "SLINEX 11", which started on Monday and ended on Friday afternoon, displayed the expertise and might of the two navies, while building better cooperation and mutual understanding between the two countries.
Sri Lanka's contribution included two Offshore Patrol Vessels, one Fast Missile Vessel, two Fast Gunboats and six Attack Craft, while India pressed into service a strong fleet of six ships, the INS Ranvijay, INS Gharial, INS Khanjar, INS Cheryam and INS Coradiv, along with integral helicopters and a Maritime Patrol Aircraft.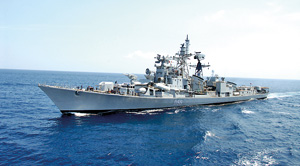 The five-day exercise included maneuvering exercises, maritime interdiction operations, force protection measures, humanitarian and disaster relief and anti-piracy operations. However, both sides kept out the burning fishermen issue in the Palk Strait, and confined it purely to a navy-to-navy programme, Navy Spokesman Kosala Warnakulasuriya said.
He added that this was the largest ever such exercise between the two navies, and it helped in many ways, as it provided more understanding and an opportunity to learn from each other. In a separate development, the Indian naval personnel also took time to visit two orphanages in Trincomalee, and carried out community services such as painting the dormitories and beds, fixing electrical appliances and doing plumbing work.
They also handed over two months supply of provisions, medicines, fans, bulbs, paint and other essential commodities to the orphanages. The Indian side was led by Rear Admiral H.C.S. Bisht, Flag Officer Commanding Eastern Fleet, Indian Navy, while Sri Lanka's group was led by Rear Admiral Jayanath Colombage, Commander Eastern Naval Area, involving some 2,000 men and officers.
Meanwhile, S. Ramadoss with the Pattali Makkal Katchi (PMK) in Tamil Nadu, unsuccessfully urged the authorities in Delhi to halt the exercise, citing rights violations of the Tamils in the north and east.
He pleaded with Delhi to call-off the exercise, since it would offend the sentiments of the Tamil people in both countries.
"Sri Lanka is a country accused of war crimes and should be treated accordingly. India should sever all military ties with Sri Lanka, as the Tamil people have called for the severing of all ties with Colombo", Mr. Ramadoss was quoted in the Indian media as saying.