"If foreign websites and channels such as Channel 4 highlight the animal sacrifice at the Munneswaram Kali Kovil, they would call Sri Lanka a land of barbarians. That's why I prevented it," says Mervyn Silva, Minister for Public Coordination and Public Affairs.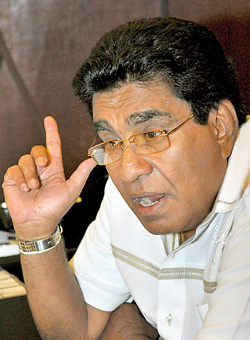 Mervyn Silva at his office on Friday and below meeting religious leaders at the Dewatagaha mosque. Pix by Susantha Liyanawatte
From disrupting a century-old tradition at the Sri Bhadra Kali Amman Kovil by removing the animals meant for sacrifice, raiding a warehouse stacked with low quality sugar, accompanying tax officers to collect revenue taxes, raiding motels in and around Kelaniya, the minister has once again thrust himself into the limelight.
In an interview with the Sunday Times, this minister who is well-known for his role as King Dutugemunu in movies spoke of his theatrics in real life. Clad in a shirt and checked sarong, he sits in his office surrounded by people holding files . "I cannot ignore problems faced by my countrymen. I am a practical man. When all the others talk, I act. I'm even ready to play the role of a law enforcement officer if necessary," he said.
According to him, before seizing the goats and chickens that were in the kovil premises last week, he had pleaded to goddess Kali not to punish him as he was doing a meritorious deed. "I despise animal sacrifice and no one has been able to stop this act. I challenge those who throw coconuts and slit their tongues. No religion permits crude animal sacrifices, especially not Hinduism," he said.
Minister Silva says his concern was that this sacrifice would portray Sri Lanka in a bad light especially with the UN sessions going on and wanted to prevent international media highlighting it.
Following the recent statement by Western Province Governor Alavi Moulana that he would take action against Minister Silva if he caused disruption, Minister Silva on Thursday (22) visited the Dawatagaha Mosque and addressed a group of head priests.
"I told them I'm not against religious practices. I'm aware why Muslims eat only Halal meat from an animal that hasn't suffered in death. I do not accept animal sacrifices where animals are beaten, tortured and then killed. I also donated Rs. 100,000 from my personal money to renovate the mosque. I don't take seriously what fellow politicians who do not have a vote bank say," he said.
Last Monday Minister Silva along with policemen and medical officers raided a warehouse on the Kandy-Biyagama Road that was full of low-quality sugar used to brew illicit liquor and make commercial sweets."This raid followed a tip-off from a member of the general public. I would not hesitate to take action against these places when people inform me," he said.
In another incident, he had accompanied tax officials to collect pending revenue taxes and had asked a hotel owner, a close friend of his to pay the due amount of Rs. 86,000. "Rs. 45 million has to be collected as taxes and we have succeeded in collecting Rs. 20 million. Those who evaded taxes all these years were compelled to pay. If they do not I will tell the officers to confiscate their goods," he said. In another incident, the minister had gone to a motel and had told the couples not to commit sin in this life.
He says he wants to convert Kelaniya to the holiest city in the country with no slaughter houses and taverns, with plans to move out existing taverns from the area.