Sri Lankan co-operative and micro finance bank SANASA Development Bank (SDB) has signed a 3-year enterprise agreement with Microsoft and Millennium ESP which would standardise IT across the organisation and streamline functions such as adminsitration and budgeting, according to a statement by Microsoft.
Further, the statement also quoted SDB General Manager / Chief Executive Nimal Mamaduwa as saying this agreement was a move by SDB to "develop and maintain a permanent customer base" as well as "become a fully-fledged commercial bank."
Also revealed in the statement, the agreement provides access to latest software including "Windows 7 Enterprise and Microsoft Desktop Optimisations Pack (MDOP), System Centre Configuration Manager and SharePoint to name a few."
Meanwhile, according to Millennium Information technologies Executive Vice President Faiq Faaiz; "Today's business environments are in a state of constant flux, and margins and lead times are under increasing pressure. Enterprise Agreement is certainly a premier solution to this end that aligns IT with business goals and provides an optimum Return on Software Investment. Using Microsoft software as a corporate platform will enable SDB to easily manage its IT tools and resources and save significant costs in the long-term."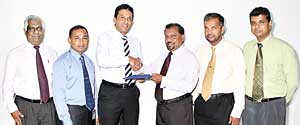 At the event: From left -- Sunimal Fernando – DGM Business Development , Sanasa Development Bank; Sriyan de Silva Wijeyeratne – Country Manager , Microsoft Sri Lanka; Faiq Faaiz - Executive Vice President - Millennium Information Technologies; Nimal Mamaduwa - .– General Manager, Sanasa Development Bank; Mr. K.G. Leelananda – DGM Credit, Sanasa Development Bank; and Indika Ranasinghe – Senior Manager IT, Sanasa Development Bank