A prominent Melbourne Orthopedic Surgeon has called for the establishment of a Public Private Partnership (PPP) to build a modern trauma unit including Casualty Department at the Teaching Hospital Batticaloa, as part of expanding the National Trauma Service.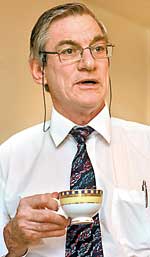 Prominent Australian Surgeon calls for a PPP to improve Batticaloa Hospital
Dr. David A Young of the Melbourne Orthopedic Group and Orthopedic consultant to the Sri Lanka Cricket Team and Sri Lanka Institute of Sport, on a visit to Sri Lanka, told the Business Times that it is essential to expand the infrastructure required for a National Trauma Service at the teaching hospital Batticaloa. A PPP is the only way to expedite this hospital development, he said.
This hospital serves a population of more than one million and it has 32 wards with 900 beds. The average number of OPD patients is more than 700 per day and special clinic patients are 600 per day. Due to increasing number of admissions for accident cases, it has become an urgent need to build a new accident and emergency ward and a modern trauma unit at the teaching hospital Batticaloa, he said. The cost for the building construction is in the region of Rs.197 million, he said.
Dr. Young said that he has taken an initiative to set up the Sri Lanka -Victoria Emergency Trauma Centre at Karapitiya Teaching Hospital, Galle. Construction work of the project had been completed with the financial sponsorship valued at Rs 400 million from the Government of Victoria, Australia. He noted that he has personally arranged many purchases and donations of essential Orthopedic equipment to improve the delivery of trauma care at Batticaloa, Ampara and Karapitiya teaching hospitals. On Friday morning, he addressed a group of top Colombo businessmen seeking their support in this initiative.