CMA, the National Professional Management Accounting Institute held its annual flagship Management Accountants Conference on the theme 'CMAs to Innovate and Drive Value' recently in Colombo. It attracted professionals in the private and public sector, academics, entrepreneurs, students and foreign nationals to its varying, thought provoking and current technical programme which spanned across two days.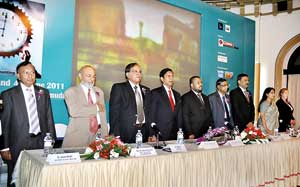 Picture shows from left - Ananda Wehalle, Council Member CMA; Prof. Dr Khawaja Amjad Saeed - ICMA Pakistan, A.N. Raman, President SAFA; Ajith Nivard Cabraal - Governor Central Bank; Rishad Bathiudeen, Minister of Industry and Commerce; Prof. Lakshman R. Watawala, President CMA; Brijmohan Sharma – President ICWA India; Aruna Alwis, CEO ICASL; Ms. Parveen Mahmud, President of ICMA Bangladesh; and Ms. Desley Ward, Manager Education, CPA Australia
The conference was graced by Rishad Bathiudeen, Minister of Industry and Commerce, Ajith Nivard Cabraal, Governor of the Central Bank and A.N. Raman, President of the South Asian Federation of Accountants (SAFA), among others.
The highlight of the inauguration was the signing of an MOU between the Institute of Cost and Works Accountants of India (ICWAI) and CMA. CMA Awards for Excellence in Business Management was awarded to Anil Amarasuriya, Director/CEO Union Bank, S. Jeyavarman, CEO of National Asset Management Ltd and M.B. Ismail, Partner Tax/Business Advisory Services of SJMS Associates. The CMA Award for Academic Excellence was awarded to Prof. Mangala Fonseka, Department of Accounting of the Univ. of Sri Jayawardenepura, according to a statement from CMA.
During the Technical Sessions, eminent speakers presented papers on the themes Sustainable Value Creation, Corporate Performance Management and Capital Market, Strategic Risk Management and Corporate Governance Strategic Risks, Contemporary Management Accounting, Establishing a Globally Competitive Programme for Management Accountants, Diversified Roles of Management Accountants, and Value Added IT Services. The sessions closed with a discussion between Business Leaders on Innovating and Driving Value to Business.