IFC, a member of the World Bank Group, is investing $3.8 million in Sri Lanka's Senok Group to help the company diversify its portfolio to include wind-power projects that will boost the generation of renewable energy and increase the country's power sources.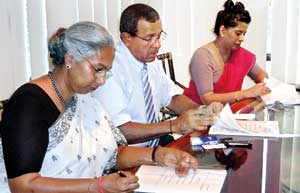 Seen here at the signing of the investment agreement. From left -- Anita George - IFC Regional Industry Director - Asia, Infrastructure, and Natural Resources, Noel Selvanayagam - President, Senok Group, and Pancherine Dias - Senok Group's Director of Finance.
IFC's investment will help develop Senok's capacity in renewable energy and support the company's plans to adopt global environmental and social practices. Under the project, the company will fast-track two new 10-megawatt wind plants in Sri Lanka's Kalpitiya region though its two subsidiaries—Senok Wind Energy (Pvt) Ltd and Senok Wind Resource (Pvt) Ltd.
The agency said Senok's wind-power project fits into Sri Lanka's National Energy Policies and Strategies to produce 10 % of the country's electricity requirements through non - conventional renewable-energy sources by 2015.
The company will build the two wind-power plants in two phases, with the first phase expected to be completed in December 2011. Both wind farms will supply energy to Sri Lanka's national grid.