The EU-sponsored SWITCH ASIA Programme, Greening Sri Lanka Hotels project, administered by The Ceylon Chamber of Commerce won the first place for the best SWITCH ASIA Project from the Asia region, at the recently conducted SWITCH ASIA regional conference held in Colombo.
The SWITCH ASIA Net Work facility introduced this award scheme to encourage innovation in presentations, collection of data, and personal stories on how the projects are influencing the beneficiaries. All 60 participants of the regional networking event were able to vote, according to a chamber statement.
In a closely contested race, the Greening Sri Lanka Hotels project won the award followed by the E-waste Recycling Project from India. The Greening Sri Lanka Hotels project will now be invited to the next Rio Earth Summit in 2012 to showcase the project.Srilal Miththapala, Director Greening Sri Lanka Hotels project said that he was delighted and proud to receive the award.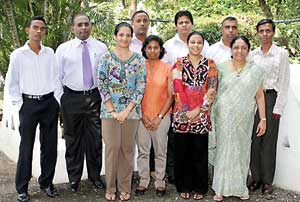 Picture shows the Greening Hotels Project team