The SMART TV has entered Colombo with Samsung Electronics whose smart phones and flat panel TVs are already a hit in Sri Lanka.
Samsung Electronics plans are to focus on this region and in the Sri Lankan market in particular largely untapped until the end of the civil war, the company's South West Asia President and CEO Jung Soo Shin told the Business Times in an exclusive interview following the launch of the Smart TV in Colombo.
He noted that they intend on delivering this kind of first clear SMART TV in a market that had witnessed a 150% growth this year.
Inspite of the glamorous launch the company said they were not setting figures for any targeted sales as it was unpredictable. LED sales reached 50% of the market share in Colombo, according to Samsung Electronics Country Manager Shankar Narayan.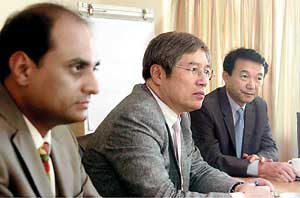 Jung Soo Shin (centre) with other officials
Right now Samsung Electronics has increased its investments in the country through the formation of a branch office, improving its visibility and shop infrastructure and the establishment of four Samsung flagship stores in the Western Province alone.As part of their further expansions the company intends on opening up more branch offices in the country and are today partnering with Singer, Softlogic and Sinhagiri and JKH for mobile phones.
Samsung Electronics is also looking to an ambitious target of achieving US$10 billion in revenue by 2014 for which Sri Lanka is set to contribute at least 2%. In South Asia the company has increased its growing importance in the economy by achieving a growth of 50% and plans on making a 40% growth for this year.
In terms of products in Sri Lanka they plan to increase the galaxy S2 which in three months since its introduction to the world market had sold off 10 million of which one million were bought from the domestic market in Korea alone. In the first week of July Samsung Electronics will launch this product in Colombo with the galaxy tablet 10.1 and 8.9.
Further innovations set to attract future buyers are the OLED and foldable monitor which is an eco friendly product with solar power that will be out in about 3-4 years time. The company invests 7-8% of its total revenue on Research & Development.
How the SMART TV works
The SMART televisions seek to provide a smarter, more connected viewing experience. Available in the LED D series, Samsung SMART TVs allow viewers to easily search for movies, TV shows, browse the web, explore Samsung apps, chat with friends and find many other types of new interactive TV content.
Some of the key features of Samsung's SMART Hub – offering an easily accessible gateway to favourite music, games, movies, TV shows, picture, and virtually any content online or on a network connected storage device. Key features of SMART Hub include Your Video which delivers recommendations based on a user's viewing history; Search All – which makes it easier to search for desired content on your TV and other DLNA-certified connected media storage devices, networked PC and mobile devices, and Internet and video-on-demand services; Web Browser, which offers full web browsing right from home TV; Social TV which makes it easier to chat with friends and family in real-tie while watching the same TV content; and Samsung Apps – the world's first HDTV-based application store offering about 400 paid and free apps globally that help people connect to their various passions whether in sports, entertainment, information, games or social networking, thanks to integration with social networks such as Facebook, Twitter and Google Talk.
Samsung launched a range of 4 SMART television models in the screen sizes between 40" to 55" across SMART TV D series. It also announced its new, advanced 2011 LCD television series available in 22", 32" and 40".