Sri Lanka 's increasingly vociferous protectionist business interests have intensified their campaign against Indo-Lanka Comprehensive Economic Partnership Agreement (CEPA) demanding the government to cancel the agreement.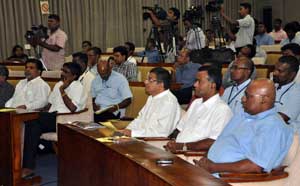 CEPA - UNP General Secretary Tissa Attanayaka seen with others
A joint declaration against CEPA was made by a group of professionals who are against CEPA at a seminar held in Colombo on Tuesday. This declaration was endorsed by leaders of some political parties in Sri Lanka including the United National Party, (UNP), Jathika Hela Urumaya (JHU) and National Freedom Front (NFF).
The seminar was orgainsed by Maubima Lanka Foundation. A book titled "CEPA EPA (No to CEPA)" was launched on the occasion. It was compiled in Sinhala branding CEPA as a death trap of India.
Delivering the keynote address, Managing Director Multichemi Group Samantha Kumarasinghe, who is a spokesman of the anti-CEPA group, said that the CEPA is bound to cause serious harm to Sri Lanka. According to him the Indian authorities have consulted arund 1000 Indian economists on CEPA. But in Sri Lanka's case it was the opposite, he alleged. He noted that not a single business professional or entrepreneur in Sri Lanka has been consulted and they have not made any request to enter the CEPA with India.
According to the CEPA, all trade sectors except small scale pawn brokering, small scale fishing in the shallow sea and small retail trade will be opened for Indians. Under the supermarket concept, Indians will enter into retail trade in Sri Lanka if their investment is over US$1million. "Sri Lankan farmers and producers will have to drink poison wholesale under this set up," he said. He disclosed that Indian businessmen will get an opportunity to buy 40% of shares of Sri Lankan companies involved in communication, education, shipping and tourism through trading in the Colombo Stock Exchange.
Under these circumstances Indian companies will be able to buy local land outright with a 100% tax exemption. This is a serious threat for the country and will pave the way for Indians to grab valuable land in Sri Lanka and thereby be in position to dictate terms in political terms or otherwise, Mr. Kumarasinghe said.
He noted that if CEPA is approved, Sri Lanka would be flooded with Indian labour in all spheres of work - professional, skilled, semi-skilled and unskilled because of India's heavy unemployment numbers of some 56 million compared to Sri Lanka's 470,000. He revealed that 30,000 Indians now are working in Sri Lanka with valid visas. It would be easier for the Indians to find jobs here because of the low wages they would demand, he added..
Among the others who have voiced their strong opposition to CEPA was Chairman Maubima Lanka Foundation Ariyaseela Wickremanayake, UNP general secretary Tissa Attanayake, JHU member Udaya Gammanpila, NFF member Piyasiri Wijenayake and head of the DSI Group of Companies, Kulatunga Rajapaksa.