The HSBC Group, in its endeavour to support charitable causes in place of sending greeting cards during the Christmas season in 2010, made a generous contribution recently, to Shantha Sevana Hospice in Maharagama.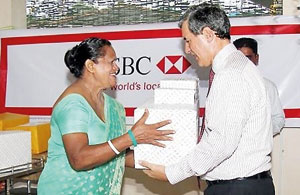 Nick Nicolaou, CEO of HSBC Sri Lanka and Maldives hands over the items to Mrs Wickramasooriya , Chairperson of Shantha Sevana Hospice
The official contribution by way of medical equipment and essentials was made by Nick Nicolaou, Chief Executive Officer for HSBC Sri Lanka and Maldives during his visit to the Hospice.
Part of these funds will be utilized for infrastructure development and house keeping that has become an essential need.
The Shantha Sevana voluntary organisation is managed by the Sri Lanka Cancer Society and works towards relieving Sri Lanka of the devastating effects of the scourge of cancer. The home aims to provide patients the best care, treatment and relief which are otherwise difficult to obtain and operates solely on the contributions received by donors and sponsors.