When the founder Chairman of Maliban Group of Compa nies Mr. Angulugaha Gamage Hinniappuhamy together with his two brothers Mr. Ang ulugaha Gamage Wickramapala and Mr. Angulugaha G amage Jinadasa left their villa to arrive in Colombo, they were given a sound advice by their mother which was completely adhered to by the sons.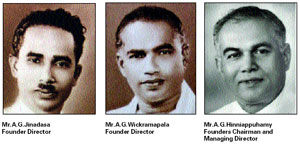 Thus before the lapse of a period of 25 years they rose to the heights of highly successful business entrepreneurs. The advice given by their mother was, "sons you may leave the village and go to Colombo, but remember that whatever you do must be in accordance with the teachings of the Buddha and have the blessings of the gods".
Having taken this advice to heart Mr Angulugaha Gamage Hinniappuhamy and his brothers established hotels, bakeries and subsequently the biscuit industry and only ingredients and raw materials of the highest quality were used in the manufacture of products to cater to their valued customers. The sons also cherished the advice to give consumers only products that could be safely given to their own family and children. It is of utmost importance that all products manufactured by the "House of Maliban"(Biscuits, Milk Products and Cakes etc.,) conform to the stipulations of food safety, that even after consumption, the manufacturer bears the responsibility.
Since 1942 this philosophy of using the best quality raw materials and ingredients in the manufacture of Maliban products has been practised unchanged and the present Chairman of Maliban Mr Angulugaha Gamage Ratnapa la Samaraweera firmly belie ves and advocates that this policy in the manufacture of Maliban products should be stringently continued in the future too. This is the success of Maliban products.
This is a statement made by the present CEO Mr D Lakshman Weerasuriya.