Diesel & Motor Engineering PLC and Tata Motors India celebrated an immensely successful partnership spanning 50 years, on 28th May 2011. The occasion was marked by a gala event at the Sri Lanka Exhibition and Convention Centre, and was well attended by many prominent personalities and other invitees. The pinnacle of the event was perhaps the launch of Tata Motors' brand new car - the Tata Nano - fresh off the factory line, which was also the vehicle's debut export from India.
The celebrations which were both colourful and aptly creative saw the arrival of Tata Motors' Managing Director & Group CEO Mr. Carl Peter Forster and Managing Director - India Operations Mr. P. M. Telang, who had specially arrived in the country for the event.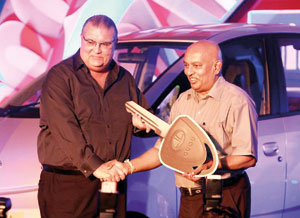 Mr. Ranjith Pandithage - Chief Executive Officer, DIMO handing over key to Mr. Nigel Austin for his new TATA NANO
DIMO, which boasts 71 years of operations in Sri Lanka, entered into a partnership with Tata Motors in 1961, and has since grown into one of the conglomerate's leading partnerships. Tata Motors is India's largest automobile company, with operations spanning the globe in the UK, South Korea, Thailand and Spain.
"Today marks a truly momentous occasion in the history of Sri Lankan transport. 50 years ago, DIMO received Tata Motors' inaugural export from India. Today, as we commemorate half a century of strong partnership, we will mark the occasion by receiving the first ever export of Tata Motors' newest innovation, the new Tata Nano" said DIMO Chairman / CEO Mr. Ranjith Pandithage speaking at the event.
The event was heralded by Sri Lankan dancing and music, and the day's line-up included speeches by key speakers followed by the unveiling of 5 new Tata vehicle models for the first time in Sri Lanka. The new models launched included the Tata Low Floor AC Tarmac Coach with auto transmission, 'Prima' prime mover, 'DIVO' luxury bus, 'Super Ace / DIMO Lokka' truck and the 'LPT 1618' with a container body.
Speaking at the press conference, the Managing Director - India Operations, Tata Motors, Mr. P. M. Telang, said, "It gives us great pleasure to begin the Tata Nano exports with Sri Lanka, as the company started its exports business in Sri Lanka and since then has completed 50 long years. Tata Motors range of passenger and commercial vehicles have received an overwhelming response in Sri Lanka and we hope the Tata Nano, an innovation marvel, is also loved by our customers here".
Commercially launched in India on March 23rd 2009, the Tata Nano offers an incredibly spacious passenger compartment which can comfortably seat four adults. DIMO is also preparing to provide a strong service platform for the new Tata models which were launched, which will enable the company to maintain its long-built reputation for highly commended service. It will soon be expanding its branch network to encompass more areas in the country, along with its existing branches in Akkaraipattu, Ambalangoda, Ampara, Anuradhapura, Colombo, Dambulla, Embilipitiya, Jaffna, Kandy, Kurunegala, Matara, Puttalam, Ratnapura, Vavuniya and Yakkala.
With 50 years of partnership behind them, DIMO and Tata Motors are now set to revolutionise Sri Lankan transport once more with the Tata Nano and many more innovations in the near future.