Sunday 30th May was a day that will be remembered by vehicle enthusiasts from across the isle as DIMO celebrated the 125th anniversary of the invention of the automobile by Mercedes-Benz, with a glamorous ceremony and pageant at the Sirimavo Bandaranaike Memorial Hall. The pinnacle of the festivities was certainly the surprise unveiling of the Mercedes-Benz SLS AMG, the newest innovation from the German vehicle legend.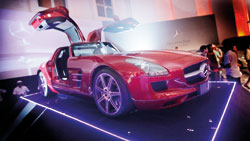 The event which saw the arrival of many prominent personalities began with a 'Mercedes-Benz Pageant' which brought together Mercedes-Benz enthusiasts from around the country, and had on display everything from 1960's vintage classics to contemporary models released last year. The celebrations offered an assortment of spoils for both adults and children, including a breakfast buffet, foot massages, engine exhibits, magic shows and face painting. A special 'instant family portrait' section also allowed families to walk away with a free framed portrait on a 125 year anniversary specialty background.
The second part of the event was organised especially for Mercedes-Benz owners and invitees. The atmosphere inside the hall was one of homage to all things Mercedes-Benz, with vintage Mercedes-Benz models lining the walls, along with a few surprises awaiting the audience under tarpaulin covers.
"For 72 years, DIMO has been a part of the incredible history of Mercedes-Benz. The passion and enthusiasm for the three-pointed star is inculcated in every employee at DIMO" said DIMO CEO Mr. Ranjith Pandithage in his speech at the event, followed by key speakers including Mr. Nigel Austin and His Excellency the Ambassador for Germany in Sri Lanka Mr. Jens Ploetner.
"125 years ago, in 1886, Carl Benz changed the world when he filed a patent application for his 'gas engine powered vehicle'. This marked the birth of the automobile and is truly an occasion for great celebration" added Mr. Kenny Ng, speaking on behalf of Daimler South-East Asia CEO Mr. Wolfgang Huppenbauer.
The speeches were followed by a stunning dance sequence and a choir performing Janis Joplin's 1971 hit 'Won't you buy me a Mercedes-Benz', which led up to the moment that everyone had been waiting for - the unveiling of the tarpaulin covered vehicles - which revealed the brand new SLS AMG and the new generation of '125 Years' Mercedes-Benz models. The afternoon's entertainment continued with performances by soloists and a mini orchestra, while guests were pampered with German cuisine at its best. A giant LED screen in the hall displayed selected entries from DIMO's 'Catch a Star' photo competition. The winners of the competition were later announced to be Nadeera Akash Liyanage from Mahawewa, T.R Dias from Moratuwa and Sagara Jayakody from Pamunugama.
The day was a truly a tribute to the fact that DIMO's had spared no expense to celebrate a remarkable brand without which modern transport wouldn't be what it is today.SLS AMG: The new generation of Mercedes-Benz