Pan Asia Bank opened its latest branch in Kuliyapitiya on the 23rd May 2011 at No.74, Kurunegala Road, Kuliyapitiya. The inauguration of the new branch was marked by the Chief Guest, Lakshman Adikari His lordship Mayor of Kuliyapitiya Town Council, Chairman of Pan Asia Bank Mr. A.G. Weerasinghe and the Acting CEO of the bank Mr. Kamoor Sourjah.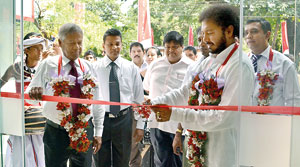 The Chief Guest at the opening, His Lordship Lakshman Adikari, Mayor Kuliyapitiya, is seen declaring the branch open. Also in the picture are Chairman of Pan Asia Bank, Mr. A G Weerasinghe and acting CEO Mr. Kamoor Sourjah.
About Pan Asia Bank
Listed in the Colombo Stock Exchange and in operation for 16 years, it offers a full range of retail and business banking products and services. PABC has already opened five branches within the year, and continue its vigorous expansion drive with a view of achieving 25 new branches in 2011 and 100 branches by the end of 2012.
Pan Asia Bank takes pride in its customer centric focus and will be offering a highly personalized service, competitive deposit and loan rates and an array of novel banking products including champion saver account with a very attractive interest of 8% for a savings account, three types of minor savings accounts, Pawning with the highest advance amount up to Rs 41,000/- per sovereign, and leasing at the lowest market rate down to 1%.
Pan Asia bank Kuliyapitiya branch is headed by Mr. Vasantha Jayamanne .The branch will be opened from 9 am to 4 pm on weekdays and from 9am to 1 pm on Saturdays. www.pabcbank.com