At CeBIT Australia 2011, Asia Pacific's largest business technology event, hSenid Biz, the leading HR solutions provider is to showcase the latest HR SaaS application, Peoples HR 2.0.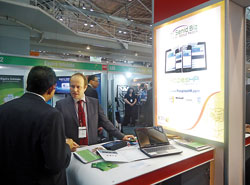 "Sampath Jayasundara, General Manager hSenid Business Solutions (Left) exchanging views with a prospective client at CeBIT Australia 2011.
People's HR 2.0, a complete web based HR software solution covering a wide spectrum of today's enterprise HR needs such as Absence Management, Training and Development and Performance Management amongst others. An innovative, on demand Human Resource Management application - hSenidBiz Peoples HR 2.0 - promises to fundamentally redefine the management of human resources using the latest technology in an efficient and economical way. hSenidBiz Peoples HR 2.0 offers significantly higher flexibility, amazingly lower total cost of ownership and guaranteed shorter implementation time frame.
With People's HR companies can easily manage their HR processes via comprehensive, user-friendly interfaces from any location in the world. This "On Demand" HR software solution is ideal for small and-mid- sized companies who want to focus more on managing and developing their most valuable asset; human resources rather than be tied up with HR administration.
Based on SaaS (Software as a Service) architecture there is no requirement for enterprises to purchase additional hardware; neither is there a need to install cumbersome HR software. Every database and application runs on remote servers administered by our well trained team. Companies will only pay for what they use on a periodic rental basis.