The Victoria Range of Bungalows is a highly successful BOI approved housing concept developed by Nivasie Developers (Pvt.) Ltd., which offers the best of luxury living in a perfect location. Located in the blissful and idyllic environment of Digana, Kandy the Victoria Range of Bungalows offers a soothing fusion of comfort in one of the country's most sought-after locations. At present, 290 bungalows have been sold, and just 20 bungalows are left remaining where the prices range from Rs. 7 million upwards. So if you are looking for that perfect dream home the Victoria Range of Bungalows is the ideal choice. In addition to this all housing concepts of Nivasie Developers are ideal methods of investments whilst also being the perfect retreat for one's retirement.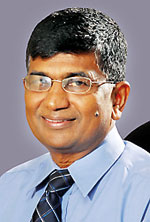 Herman. S. Gonsal, Managing Director/CEO of Nivasie Developers
Each holiday home overlooks a breathtaking mountain range that is shrouded in mist. Come and enjoy the cool climes and misty air, where you and your loved ones can spend quality time in a beautiful and comfortable terraced home that is surrounded by forest fresh hills.
The Victoria Range of Bungalows is the ideal place to rewind, relax and loose yourself in the enchanting panoramic environment which has the ability to soothe ones visual senses to the maximum.
The Victoria Range of Bungalows is structured to the best of architectural ingenuity using the very best of quality building materials. The bungalows come in a range of beautiful designs which include Ebony, Tectonia, Tamarind, Indica and Super Tectonia.
The Club Victoria Resort is a fully equipped restaurant situated in the same premises catering the best of food from eastern to western cuisine for its residents as well as visitors. Many other recreational facilities are also available for the residents such as a Swimming Pool with a breathtaking view, Gymnasium to keep one fit and trim, for sports enthusiasts a Squash, Tennis and a Badminton Court. In addition to this other value additions include 3 beautiful Ponds, Conference Hall, and a Children's Play Area.
The Sunday Times Supplements Desk spoke to Mr. Herman. S. Gonsal, Managing Director/CEO of Nivasie Developers to find out more about their highly popular housing concept.
"The last few months have been very good for business and we are very confident that we will be all sold out within the next three months with regards to our Victoria Range project. Nivasie's anticipation is always to give back the best for the investment made by our residents. Our housing concepts not only comprise of a home but with that we give 24 hr Security, Garbage Collection, maintaining of Common Areas, and Street Lights. We provide our Residents a total solution for a serene and comfortable living at Victoria Range Bungalows in Digana.
In every project the most important factor that one must take into consideration is its location. That is why we built our Victoria Range housing concept in Kandy, which is considered to be the 3rd largest city in the Country. Kandy has always been famous for its rich heritage, cool climate and the scenic beauty which has captured the hearts of many local as well as international travelers. Also this city is developing at a very fast pace which makes it all the more ideal to reside in or to visit for one's holiday as a housing concept of this nature is a novelty to Kandy", says Mr. Gonsal.
Speaking on the lines of the best location, one must not forget that the city of Kandy is the best place for golf enthusiasts as the famous Golf Club is located in Digana. In addition to this one of Sri Lanka's largest international cricket grounds the Pallekelle International Cricket Stadium is also located in close proximity to Victoria Range Bungalows. Kandy is the ideal central stopping point for those visiting areas such as Nuwara Eliya and Badulla etc. Taking all this into consideration the Victoria Range Bungalows offers the best holiday environment where one could have access to many forms of entertainment and facilities due to its idyllic location.
In conclusion Mr. Gonsal stated, "With so much to offer, Victoria Range Bungalows offers much more than just a holiday home concept but is best considered to be a more superior art of luxury living where location and master craftsmanship is considered to be the strong points of the entire project."
So dear readers don't miss out this last chance to own a Bungalow at Victoria Range in Digana!