We've all heard it. The old saw, the familiar saying. 'Divide et impera'. The Romans invented it. The British applied it. The savvy manipulators of town and country today use it, misuse it, and abuse it. Simply translated, it reads "divide and conquer". A more subversive rendition is to "split the spirit to keep the souls of people apart". We've seen it happen. Time and again, then and now, here and there, everywhere. Empires. Colonial powers. Military industrial complexes. Newly emerging economic powerhouses. Superpowers. Petty politics in tin-pot dictatorships, where swaggering tyrants hold sway. Tyrannical democracies. Sovereign kingdoms. Island nations. Time, then, to disabuse the powers that be about the res. Our republic. The one thing that can unite us. One ring to rule us all.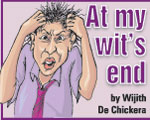 Firstly, though, what divides us? There's always the stock answer to fall back on. Caste, creed, race, religion, etc, ad nauseam ad infinitum. These chimerae alone may no longer suffice to account for the extraordinary hate and/or apathy we have towards one another. Let us consider, then, the case of the haves and the have-nots. Where, by dint of one man's luxury being another woman's necessity, we are all caught between the hammer and the anvil of limited wealth and inequitable distribution.
No, that too will no longer do. The last revolution to be mounted on the altar of the inordinate cost of living ended with the inexcusable deaths of an entire generation of socialists – although some have successfully reinvented themselves as born-again captains of commerce and industry, such that either champion or turn a blind eye to the truth. Namely that whereas capitalism is the exploitation of humankind by humankind, communism is merely the reverse. Old joke, but it still gets a laugh – demonstrating only too well that money matters! Everything in life is a matter of the mind… If you don't mind, it will not matter that wars are fought under one more aegis that you would care to name. Economics. There's also ideologies which divide us, and wars that – ironically enough – unite us. As long as we demonize the opposition (be it lions or tigers or kiwis or kangaroos) stridently enough.
Secondly, people in power with vested political and other interests divide us. Do we repeat ourselves? Very well, then, we repeat ourselves! Someone said that history repeats itself, and Santayana in turn suggested that those who don't learn the lessons of history are compelled to repeat it. 'Nuff said, methinks. We've covered this same territory over and over in our clubs, churches, charities, corporations, and cocktail circuits. Time for us fools to stop going round the cruel roundabout of enslaved polities who don't recognize that the hand which feeds them feeds itself far more generously than they can ever imagine.
Thirdly, power and greed and pride divide us. Those who have it fear that others may try and steal it, and so they cling on to it with brute force – because it brings home the bacon. Those who don't have it and want it, precisely because of all the goodies in life that it entails, lust after it badly – the strong with conviction, and some success at grabbing a slice of the pie; the weak with pusillanimity, and failure that ends up a corpse on a street or a prisoner in gaol. Those who want it but don't want to be seen wanting it, either cower in shame or cover up their own guilt by pointing fingers at everyone else bold enough to aspire to the crown. 'Twas ever thus. 'Twill ever be till Kingdom come. Come soon…
Last but by no means least, the supposedly good things in the mortal coil which no one ever really wants to shuffle off divide us. Sports, egregious success, faith endorsed sex; wealth and wisdom; fame – or, failing which, even notoriety. These divide us. In the sense that they keep people apart from a real meeting of hearts and minds, separating souls: one from one's sense of well-being to another's insufferable reality. The body is god – and as long as we feed it we will not taste the quiddity, the oddity, the reality of the other who lives amongst us unseen, works with and for us, and dies in distant corners of our demographics for dreams that will not see the light of day. All of which brings me to my thesis. We need a new ethos. One that will unite us. And remind us that we are the champions.
Not because we won a war. Or because we brought the World Cup home. Never because we are a proud and ancient island race. But only because we have a whole new all-compassing this-ness-surpassing sense of identity which will supersede the dark old gods of demographics and ethno-centricity. An ethos that is based on the one true great potential of Sri Lankan identity. A people who will pride themselves on their principles (such as honouring others), rather than personalities (those who wish to be so honoured).
A nation that yearns for recognition of its present abilities rather than its past accomplishments. A global player whose real glory will not be its tea, or garments, or gems, or touristic Edens, or even its cricket – but its heart of hospitality; spirit of service; and soul of right-minded Growth, Development, Progress (a new GDP!).