"As I hoped and believed, love did grow out of a war torn land, liberated now, from pride and prejudice, from divided races, from customs and beliefs, .....from fear…. It is more unique to liberate people through love than through hate."
Punyakante Wijenaike's victorious but wounded Sinhala soldier Suranga, returning to his village home, from fighting, in the ethnic war that ravaged Sri Lanka, mouths the author's intense emotional feelings in her latest book "When Guns Fall Silent". The young soldier who fought with commitment for his country, and for the avenging of his father's murder by the Tiger terrorists, now sees the futility of it all.
"How and when did this all start, this turning of human beings into tigers and lions mauling each other; hunting each other on both sides had forsaken the progress of civilization, we had turned into wild beasts hunting our own prey, we had forgotten our civilization, homes, villages, and cities, our religions, that taught us to love and not hate."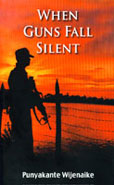 It is pretty obvious what the Sri Lankan prize-winning author is telling her wide reading fan base to ponder on. The book is divided into two novellas, and is written in the first person in her own classical and inimitable style. Although they are two different stories the themes running through both, relate to the horrors of war and the scale of human suffering it leaves in its wake. In this instance she writes of the war that destroyed the very fabric of Sri Lankan society.
"War is an evil thing," she says, and don't we all know it for it has left "scars that are not easy to erase" as the young soldier in his wisdom, realises.
A novella is one of the richest and most rewarding of literary forms used by writers as it allows for more extended development of theme and character than the short story, and is less formally experimental and shorter than the novel.
The first novella, is about the returning Sinhala soldier Suranga, who has lost his leg through amputation at the National Hospital on account of having sustained a serious injury in the fighting. He realises the horrors of war when he sees the heart breaking suffering of his fallen comrades in arms at the Ranaviru rehabilitation hospital ward. Here, there are broken bodies attached to tubes and other life supporting equipment "each bed held victims of war who could function no more as a whole human being."
Suranga comes home to his aging mother, twin sister, and three adoring younger brothers; his elder brother, Randiv, who was also a wounded soldier and shared the same ward with him at the National Hospital, is back in the Army.
Suranga tells his mother "the darkness of the past must not have a place in today's world" and "I want to break down the wall of silence between us" referring to the Tamil neighbours living in the vicinity, in their village. "They must know, that though they have lost the war, they have not lost our friendship."
Suranga finds on his return, that after years on the battle field where continuous fighting was the order of the day he is emotionally empty and drained, and longs for the love and comfort of someone.
He is searching for love, like the incessant cry of the koha, and even begs his working twin sister Suranga to bring some of her friends home for the New Year. She responds firmly and gently by saying "be patient, Amma will find the right girl for you" knowing that her mother was getting his horoscope read. Suranga also feels insecure about his future; we are told of the periods of withdrawal that the wounded soldier goes through, "who will want to marry a one legged human", "what can I offer a woman who marries me," he asks.
And then Suranga finds the dark roving eyes of Madhuri fixed on him and his heart skips a beat; Madhuri is their Tamil neighbour's daughter; and his love lorn heart latches on to hers, only to find obstacles to its fulfillment, in the form of her animosity filled, hard hearted, unforgiving old father Siva, and his steeped-in-tradition, horoscope scanning mother, Babahamy.
He confides his feelings to his soldier brother, Randiv, who comes home for the New Year, and with his help the reader is made to believe that the love that grew out of the war, bore fruit and brought great benefits to the Sinhala and Tamil families in the developing provinces.
Suraj finds himself in an IDP camp sans his friend Visu who was shot in the back, as the two friends, teenaged "Tigers" endeavored to make good their combined escape from the final onslaught on the Nanthikadal Lagoon. They had lost all faith in their leader Prabhakaran, who failed to take the cyanide capsule, preferring to find an escape route when surrounded by the Sinhala Army at Nanthikadal. This is Novella 2.
Like hundreds if not thousands of young Tamil girls and boys who followed the 'Sun God', Suraj and Visu lose their belief in him, and flee the final battle to the freedom of the IDP camps and thereon.
After Visu was shot and killed by his own, in their bid to escape, Suraj finds loneliness amongst the thousands of inmates and longs for the realization of his pre-terrorist dreams of being a cricketer, for his school and his country; he longs for his family but only finds a Periya Amma, Kala, whom he clings to in the absence of his mother. But when he does ultimately find his family he realises that they too have been savaged by the war; the house they had lived in was flattened, his mother had become a lunatic, his father was aged and frail, and Nadiya, his pretty sister was swollen with the pregnancy of an unwanted war child.
Suraj finds new horizons when he is sent from the camp to the Hindu College Colombo for further studies, where he sees the wonders of the South and meets children of his own age, all having the same aspirations, and "where all religions are respected and accepted."
The author reminds the readers that these ex-combatants of the terrorist outfit are all innocent children brainwashed to kill; "suicide bombers were not born to kill, we were trained to do so, we are not crazy, we are normal people," says young Antara, an ex-female combatant who was coerced to join the "Tigers" because of poverty and is now being rehabilitated in the Colombo school.
After it is all over, Suraj's father writes to him from Kilinochchi whilst he is pursuing his studies in Colombo. "Why did we not negotiate and claim our rights, without turning to guns and killings. Hatred cannot be overcome by hatred and violence, only through love and understanding," underlying once again the author's strong plea for the need to stop all hatred and violence as a means to problem solving in our country. She harks back to history and reminds us that from the time of Kuveni, Sri Lanka had never enjoyed stability, and asks, was it her curse still –re-acting?
The old Tamil father's final advice to his ex combatant son Suraj, is study hard "become an engineer, and let us build a new world together" and Suraj realises that it is love alone that makes living possible. "Life without love is dying, and love transforms the world. When greed and power and hatred steps in, love dies. I am growing up to take my place in my country, with love and understanding."
Punyakante, to my mind, is giving her readers a strong message through both Suranga and Suraj, of the utter futility of man, endeavoring to sort out problems by fighting and killing each other. She has also illustrated the fallacy and hard heartedness of clinging to old traditional thinking purely for its own sake and not making efforts towards reconciliation and forgiveness. This, she says, has contributed largely to the decimation of our young people, who become the scape goats and suffer the consequences.
I found the two novellas depicting the two sides of the struggle and their aftermath to be fascinatingly absorbing, bringing home the human suffering and yearnings, brought about by the war, particularly of the younger generation who bore the brunt of these savage encounters. It was their futures that were shattered, their dreams that lay broken, their lives that were snuffed out, and with the end of the war and the dawn of peace, it was their futures that could once again be realized, as portrayed in the aspirations of Suranga and Suraj.
I cannot agree more with the author when Suranga says "there must be a movement among people to help themselves and their country, without dependence on politics and politicians, for they were the reasons for insecurity. Peace should bring communication, as wounds healed, peace must be, No more barriers! Freedom from hatred and fear!"
A word about the editing which did not do justice to an excellent read.