British High Commissioner John Rankin hosted a gala reception at Westminster House to mark the occasion of the Birthday of Queen Elizabeth 11.
The guests were treated to a delightful evening of music when the orchestra played some lively compositions of British composers and the popular duo the De Lanerolle Brothers entertained the gathering with some delightful duets.
An evening with Pakistani cricketers
By Yashasvi Kannangara
It was an excited throng of Pakistani fans that gathered in the Oak Room of the Cinnamon Grand Hotel last Wednesday to greet the members of the Pakistani Cricket team. Our eyes were instantly drawn to the man in green and white, Abdul Jalil, known as Chacha Cricket or Uncle Cricket to the Pakistani cricket lovers. This ardent supporter symbolically clad in a green sherwani and hoisting the Pakistani flag high up in the air mingled with the adoring crowd.
Younus Khan

Man of the evening:
Afridi surrounded by fans

Shoaib Aktar with Indian High Commissioner Ashok K. Kantha and Mrs. Sharmila Kantha (left) and (right) Pakistani High Commissioner Ms. Seema Illahi Baloch. Pix by Sanka Vidanagama
Mr. Jalil watched his first game from the stands, a Pakistan vs. England match in 1965. And since then he has been travelling the world supporting the team and cheering their game. "I am the famous Pakistani cheerleader and am closing upon my 500th match as Chacha Cricket. The 150th match I cheered for was played at the Sharjah Cricket grounds. The Pakistani Cricket Board sponsored my games for 13 years and now Coca-Cola does," he smiles.
As the cricketers walked in the cameras flashed from every point. The Pakistani High Commissioner for Sri Lanka, Ms. Seema Illahi Baloch making a brief address thanked the organizer Khalil Masood of SKM Lanka Holdings Ltd., the manager of the team, Intikhab Alam, captain, Shahid Afridi, the members of the team and cheerleader Abdul Jalil.
She requested that the team play a good, clean game for the country and said how much they have made the country proud. "Millions pray for you, including us at the High Commission," she said.
After the presentation of souvenirs to the team, there was time for the fans to get their pictures and autographs. Shahid Afridi was his usual confident self, full of smiles as he acknowledged the wishes and compliments that came his way.
The Rawalpindi Express, Shoaib Aktar, coach, Waqar Younis, fast bowlers Abdul Razzaq and Umar Gul, wicket keeper, Kamran Akmal and the rest were the centre of attention mobbed by the fans. Said Anushala, a young cricket enthusiast, when asked who was her favourite, "Can't pick one really. They are all so great. But if I had to, I'd say Shahid Afridi."
It's healthy living with iridology and Italian food
By Smriti Daniel
Having tried it for herself, Barbara Avossa is an ardent fan of iridology. A form of alternative medicine, iridology involves a detailed examination of a person's iris which is then used to diagnose any health problems. Her consultant, Michelle T. Jones is a qualified practitioner and she says you'll be surprised at how much she can tell about your general well being from a look at your iris. Using special equipment, she takes a close up picture of the eye – studying fibres, pigments, markings and the colour of the eye itself. Barbara says Michelle correctly diagnosed some problems, including a kidney infection, that Barbara herself was unaware she had.
Michelle and Barbara got to know each other as the former was a frequent diner at Regina Margherita, Barbara's restaurant on Park Road. They have now gone into business together to offer a 28 day detox programme. It begins with a two-hour consultation with Michelle who then creates an ideal diet plan for her client. Next Barbara works out a menu filled with healthy Italian dishes in accordance with Michelle's instructions and the client's personal preferences. Michelle, who imports supplements from her native Australia also provides these to clients to help keep their strength up during the course. Three meals and two snacks are delivered to a client's house or office at regular intervals throughout the day.
When planning her diet, Michelle says she must take many things into consideration. Many of her patients in Sri Lanka metabolize carbohydrates poorly and there are others whose bodies do not absorb calcium and magnesium properly – such individual issues influence the final diet recommended. Though she only began practising this January, Michelle already has 50 clients, whom she says she gained mostly through word of mouth. She sees them at the Revival Physical Medicine Centre in Colombo.
Though many people come to her requesting advice on weight management, she says you should consider a detox programme if you have any of these symptoms: dark circles under the eyes, yellow-coated tongue, bitter taste in the mouth, headaches/migraines, irritability and moodiness, PMS, skin issues (acne, eczema, psoriasis, discoloration of the skin), allergies, reflux, bloating, poor metabolism, falling hair/hair loss, diarrhoea, and constipation.
Michelle says that there has been a particular increase in bowel related issues in recent years and that she can always spot traces of this. She also says you can use iridology to uncover problems like a predisposition to high cholesterol. It should be noted that there are few studies to back up the veracity of this technique and iridology has its fair share of critics. For sceptics, the chance to eat fine Italian cuisine every day for a month might still tempt them to try the detox programme.
Barbara says that she and Michelle worked closely on creating a range of meals. All the meats are halal and the emphasis is on organic ingredients, says Barbara, sharing some of the recipes clients will be offered: grilled prawns served with grilled eggplant and bell pepper grilled in the wood fire oven; grilled lamb racks served with parsley potatoes, salad, broccoli; chicken breasts served with a portion of Arborio rice, carrots, cauliflower and tomatoes salad dressed with homemade Italian dressing. She adds that her menus will be thoughtfully designed and will rely heavily on high quality ingredients like extra virgin olive oil.
Two packages are currently on offer, the first which is a shorter 2 week programme is expected to cost around Rs.65,000. The full 28 day programme will cost between Rs 120,000 – 150,000, depending on the requirements of your particular diet.
Michelle says she believes clients will find that their immune systems are much strengthened as a result of the detox and that this will help them maintain a generally healthier lifestyle.
"A healthy body is able to heal itself," she says, explaining that a careful diet will help bring the body back into balance. The programme is meant to remove the stress of not knowing how to start, where to start, what to take, what not to take and what portions are good, she says, adding that if it is not done under expert supervision many people on diets end up losing muscle mass along with body fat. "Doing a month long-programme allows you to just absorb all the information and live the healthy life for a whole month. Once you learn it and feel the difference, it is easier to keep up with a healthy lifestyle," says Michelle.
Great music flavoured with many goodies
'Live 2' – the De Lanerolle Brothers in concert on March 3 at Waters Edge
By Nita Tissera
At times I was left wondering how two guys – Rohan and Ishan de Lanerolle could keep a 500 plus audience in the palm of their hands without a band backing them up and on a bare stage. Such was their act that night.
From the moment they opened with "Amarillo ", they had the audience enthralled. Gifted with rich, smooth voices that could be easily compared to the likes of Frank Sinatra, Andrea Bocelli, Louis Armstrong and others who have made it to the top, the brothers were in fine form as their individual vocals and intricate harmonies clearly moved the audience. They peaked quite early into the night when they gave an impeccable rendition of the "Prayer".
The biggest cheers rose when the brothers waded into the crowd (something that many of their fans look for) with the Trini Lopez medley and didn't they all sing. It also gave their fans an opportunity to catch them "up-close and personal". Ishan didn't miss an opportunity to give a 'bear hug' to some of his fans although Rohan seemed to be more reserved on the night probably not being 100% fit.
Besides the singing there was other merchandise that made the concert extra special – everything the brothers touched was gold….from the brilliantly constructed stage by Event Productions to the attire specially crafted for them by Lou Ching Wong to the sound equipment and sound levels handled by Gerry Jayasinghe and Shobi Perera to Ramani Fernando's hair skills evident on Ishan, just to name a few.
Special mention was made of Shobi Perera who constructed brand new tracks to suit their voices.
The concert also saw them launch their own merchandise – The De Lanerolle Brothers Tea. The best was yet to come when Singer Sri Lanka Chairman Hemaka Amarasuriya gifted the brothers with Samsung Galaxy Tabs and Manager Marketing of Classic Travel presented the brothers with a symbolic ticket marking the partnership as their official Travel Partner.
The concert also gave back to the audience over 120% worth of goodies. It appears that the brothers are well supported by their sponsors and partners, even though it took five minutes to thank them. They made special mention of all their sponsors and partners showing them their appreciation for the unstinted support since their launch in 2010.
All in all, fans, sponsors and partners and Colombo's corporate circle had a relaxing and enjoyable night with good food, good music and goodies. The only drawback was that the service from Waters Edge lacked finesse (unlike last time).
While many understand why the brothers bring themselves on as the main act after the dinner service is completed, one hopes that they could extend their performance time and limit the guest performances / entertainment during the dinner service for concerts of this nature.
Cricket and music: Amateur bands get chance to shine
By Dhananjani Silva
World Cup cricket fever has hit the cricketing nations with a vengeance and as the tournament reaches the knockout stage, fans are caught in the excitement. This time amateur bands in Colombo have found their passion for music from the game. Let there be love; let there be peace; let there be cricket!! goes the composition of amateur band Highway who performed and recorded their composition for the 'Cricket For Peace' music album which is to be launched in Mumbai with the ICC World Cup final.
A novel concept that promotes peace and unity through sport, 'Cricket For Peace' organised by the leading money transfer company MoneyGram International, opens up a unique opportunity for amateur bands in Sri Lanka, India and Bangladesh to reach a worldwide audience.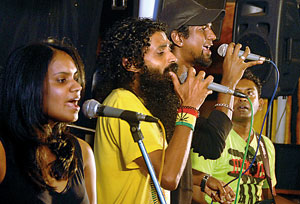 Highway band
Out of the songs by bands representing nine cities (Colombo, Delhi, Bombay, Calcutta, Chennai, Bangalore, Dhaka, Ahmedabad and Chandigarh) the best band from each city will be selected by a central jury for the music album to be launched in Mumbai on the eve of the World Cup final on April 2. In addition, three of the best vocalists from each country will be picked to form the tri-nations band to sing together in Mumbai the multi lingual Cricket for Peace anthem which is a blend of Sinhala, Tamil, English, Hindi, and Bangla languages.
Sandeep Raj Singh, coordinator of MoneyGram speaking to the Sunday Times during the recording session in Colombo said the concept was like marrying cricket, peace and amateur bands together to give exposure to the latter, purely on the basis of merit, to showcase their talents. "We have seen how music and cricket go together. We saw how songs like Waka Waka composed for the Football World Cup got so popular; but those are all done by professional artistes. What is the platform for amateur bands to showcase their talents? So we decided to invite amateur bands in these three countries where World Cup matches are held to come forward to compose a song that essentially conveys the message of peace and cricket," he said.
Bands in Colombo have done a great job as they have come up with good compositions within a very short time frame - less than 10 days, he said. These included Highway, Soul, Stopwatch, Theory, Fire, Dimensions, Elixir, Rebels and Battery.
Lead vocalist of Highway Nithin Gunaratne said his six member band was enthusiastic about the whole programme from the time they were invited to make a composition as it is a new concept. "People have heard about bands like Gypsies etc but there should be a platform for western bands like ours too," he said.
Damien Fernando and Shehan Wanigasekara from Rebels said cricket and music can bring people from around the globe together and is an ideal way to get the message of peace and unity across.
"Cricket is something that all of us love. What we are trying to say is that just like we love the game, why can't we love the people?" Damien said singing a few lines from the second verse of their song which goes; Ready to drive away your fears; and even to sweep off others tears.." So as you prepare to enjoy the World Cup final, watch out for these guys too!
Kama Lounge the newest in town
Opening its doors this week, on March 24, is Kama Lounge, Colombo's newest restaurant and lounge bar. The new restaurant and cocktail bar at Huejay Court, Galle Face is designed to reflect the rich splendour of the East with opulent décor and air of sensuality and indulgence. There is a private dining lounge and VIP lounge for guests who desire privacy.
The fusion Pan-Asian menu will offer delectable fare from Calamari Ambulthiyal and Salmon teriyaki to Crispy Fried Mock Duck to satisfy discerning tastes.After 11.30 p.m. the restaurant will turn into a cocktail bar.
Equipped with the latest in sound and lighting ( a multi-coloured laser system), the aim is to offer superlative music and even bring down international names in the entertainment scene soon.