It would take anyone a bit of time to place Bimal Mendis. While his name is Sri Lankan, his accent shuffles between American and British pronunciation. Having grown up in various parts of Africa and been educated in the US, where he is now Assistant Dean and Director of Undergraduate Studies at Yale School of Architecture, Bimal is a mix of worlds.
Sri Lanka is no more than his birthplace, but Bimal is still connected to the island; twelve long years since his last vacation here, he has returned to help the country with his partner Joyce Hsiang.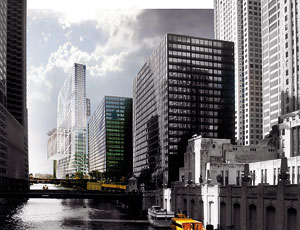 One of their high-rise designs the Union Station Tower in Chicago, USA
Having both received their B.A in architecture with distinction from Yale College, and their M. Arch from Yale School of Architecture, they now lecture at the university as well. Bimal, 35, and Joyce are partners both in the professional sphere and outside of it. The couple studied together and have worked at the same firms. Joyce, 33, like Bimal, is a cultural mix as she was born in Taiwan but grew up in the U.S.
The couple have been a short trip around the island, to get a sense of the landscape and the on-going development. A boom in post-war development in Sri Lanka is inevitable, they say adding that comprehensive and strategic planning that maximizes efficiency is all the more pertinent as Sri Lanka re-emerges as an important hub on the global stage. "The challenge for the country will be to simultaneously modernize and conserve, preserving aspects of the local culture and ecology, while building to international standards," they add.
The demands for development necessary to make Colombo a globally competitive city could easily lead to large scale projects that are synonymous with generic developments worldwide, resulting in a loss of identity, they feel. It is imperative that Colombo densifies without compromising its unique character that defines it as a vibrant South Asian city. A strategy of integrated development should address and enhance the specific attributes of local conditions, from conserving the historic Fort district and the energetic markets of Pettah to re-invigorating the canal network as an interconnected park, water and transportation system that could catalyze further development.
"Galle Face green is a unique public amenity that connects the city to the waterfront. Urban beaches, esplanades and water parks should not be an exception, but an intrinsic part of the city's relationship to the water."
A country's cultural infrastructure is vital, they stress, for example the modernization and construction of public institutions such as libraries, archives, museums and performance centres. "Public and private investment in this cultural infrastructure will be pivotal to the country's long term transformation."
| | |
| --- | --- |
| | |
| Joyce | Bimal |
Most of their projects have focused on sustainability and have taken ecology into account before designing. Working around an environment and making the most of it, rather than simply clearing and filling land to make way for concrete towers. Having worked on several major projects internationally, from the US, Mozambique, Abu Dhabi and the Maldives, the duo have an impressive résumé made more so with their educational background.
"I always had a kind of dual interest in architecture and engineering," says Bimal explaining why he chose a career in architecture. "When I went to college, I started out as a mechanical engineer, but I slowly began to take more classes in Architecture and I was more seduced by architecture. You understand that architecture on different levels is more than how a building looks. Architecture, where it can continually surprise, that's what kept me interested".
Bimal and Joyce are principal directors of Plan B Architecture & Urbanism, an award winning design practice based in New Haven, USA which focuses on architectural projects and the development of urban and ecological infrastructures. "We don't have a specific type of project," says Bimal, "for example our projects vary from small vacation houses to what we usually work on which is larger planning infrastructure projects.
"What we're seeing now is that you cannot separate buildings from cities, buildings from their urban fabric or even buildings from their landscape. Sri Lanka is at that kind of turning point where there is a lot of development, it's uniquely positioned to be developed in a strategic manner. And I think there's a lot of potential but not much room for development at the same time based on population and congestion. We have to build smartly and build well, to think strategically about not just the building but the scale and landscape, so that's where we have an interest of focus. To see where those three worlds come together," Bimal says.
Speaking about their specific area of interest as architects, Bimal goes on to say, "I think the role of ecology in particular is going to be important. That's one area that we're doing research on. At Yale we're doing research on sustainability and how that impacts urban development. We've received grants to do this research. We're doing a number of different case studies, we're examining the way sustainability can be measured but also how it can be used in building cities so that's one area in which we think we can contribute."
Projects they have worked on include Buzzard Bay Bridge Park in Massachusetts where a distinctive feature of the park is the sea's tidal cycle that affects ponds in the park. Their current projects include the design of a music centre for the Amaradeva Foundation in Colombo, a spatial planning study for the Maldives and an artist's studio and a writers' summer retreat on a wetland preserve in Connecticut, USA.
Emphasising how they work Bimal says they look at projects holistically and understanding the political, economic and cultural ramifications whether building a tourist or urban site, all these factors are taken into consideration. "Putting up a tourist resort has a huge impact on the local community as well as the ecological context. There are ways to make them mutually beneficial," he adds. "Sri Lanka has the advantage of a growing economy. Most countries in the west have the opposite problem. Sri Lanka is privileged enough as it can begin to see considerable growth, within the near future."
Given the country's rich history of long term planning such as the ancient cities of Anuradhapura, Polonnaruwa and Sigiriya, as well as the Dutch canal system where infrastructures of hydrology and water management, ecology and transportation were interconnected and planned with long term vision, in repositioning itself globally, Sri Lanka should creatively and responsibly re-envision its urban and natural infrastructures for sustainable development, privileging not just the environmental and ecological but the cultural as well, they say.