The British rulers who did not pay any heed to the rights, responsibilities and necessities of Buddhists, executed every scheme possible to undermine Buddhist power and suspected the Sinhala-Muslim Riots from its beginning as a movement to oppose the government.
These rulers who suspected Sinhala leaders and Buddhist societies and organizations without any basis, charged them unjustifiably, without making inquiries. On 8th June 1915 at about 12 noon these rulers sent a Town Guard, a Police Inspector and two Punjabi soldiers to the house of Mr. F. R. Senanayake and made a search in every nook and corner.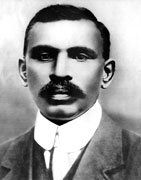 F.R. Senanayake: In the vanguard of national resurgence
They searched for secret anti-government documents and weapons, but none of these was found there. In short, not only was there nothing to charge Mr. Senanayake with, but there was nothing to suspect him, and therefore those officers went away empty handed. On this day, simultaneously, the houses of Mr. D.C. Senanayake, Mr. D.S. Senanayake and Mr. D.B. Jayatilake were searched in a similar manner.
The rulers who were not satisfied with this, detailed Punjabi soldiers who could not speak a word of the Sinhala language to search the houses of Sinhala Buddhists. Those soldiers who followed the Sikh religion acted in a cruel manner against the Buddhists.
Under suspicion
Even the coconut scrapers found in their houses were considered weapons. On this occasion, all anti-liquor heroes who were associated with the Anti-liquor movement, and the members of those societies along with their officials were subject to suspicion by the British. In the Secret Report submitted to the government on 6th August 1915 by the Inspector General of Police at that time, Mr. H. L. Dowbiggin, it is seen that charges were brought against the Buddhist Theosophical Society, Young Men's Buddhist Association and the Anti-liquor Society and their officials.
In his Secret Report he had mentioned that these societies were bent on political more than religious activities and that the two societies Buddhist Theosophical Society and Young Men's Buddhist Association were political organizations masquerading in the form of religious organizations. The IGP aimed direct charges against the Anti-liquor Society formed by the three Senanayake brothers D.C., F.R., and D.S. together with the people of Mirigama and Attanagalla. Mr. Dowbiggin who stated that the other Anti-liquor branch societies in the island too were connected with the riots, had reported that charges could not be brought against a minority of citizens who were associated with the Anti-liquor Society.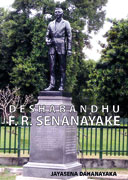 In a letter sent to the G.A. Central Province dated 5th June 1915, by the A.G.A. Matale it is stated that during this riot, the Sinhalese had complained against the Sinhalese due to personal enmities and were making use of the available opportunity. The rulers were enraged to the point where they would arrest any Sinhala person accused by a Muslim even falsely, but no one charged Mr. Senanayake.
F.R. who won the hearts of all and treated all as equals did not have enemies but friends. On 30th October 1915 he made a statement saying that the Government had tried all means to name him an accused, and that among the Sinhalese, Muslims or any other nationality he had no enemies. He was pleased on account of this, and living as a free individual, would work for the betterment of the country.
F.R. taken in
At this time when the soldiers started capturing the Sinhala people and killing them, all those people who took the lead in religious and social activities were arrested without any inquiry. Accordingly, on 21st June at about 5.30 in the morning a Town Guard came and stopped his motor vehicle in front of Kewstoke house, and declared that he had come to arrest Mr. Senanayake. Having heard the officer's words, Mr. Senanayake went into his bedroom close to the verandah and asked him to wait till he changed his clothes, but the officer refused his request and ordered him to "come in those clothes". As it was not judicious to ignore the Town Guard's order, he got into the motor vehicle and set out for Welikada prison.
At the entrance to the prison Mr. Senanayake was handed over to the Superintendent of Police, Daniel, by the Town Guard. He examined this gentleman in custody. Subsequently, he handed over Mr. Senanayake to the prison authorities saying that the latter was a captive who should be imprisoned. Then Mr. A.C. Olnet, the Army Special Commissioner, asked a number of questions from the suspect who was to be put in prison.
F.R. answered all of his questions without hesitation. The Army Special Commissioner who was not satisfied with this, put him inside a designated "penal cell" and locked him up. There were about 150 such cells. All of them were very unclean. In the cell Mr. Senanayake was put, there was a toilet and the foul smell emanating from it was awful. He had to stay as mentioned, in this cell for about 20 hours daily. He had never stayed in a dirty place like this in his life, and refused the lunch given to him in a tin dish as it was unclean. F. R. who was without food for two days was given permission on 23rd June to get down food from his home.
Rounding up Buddhist leaders
On the day F.R.was taken in to custody, Messrs Arthur V. Dias, D. B. Jayatilake, doctors W. A. de Silva and C. A. Hewavitarne too were arrested and put in prison. As recorded in a secret government document on 17th August 1915, these Buddhist leaders were taken into custody without any inquiry. This is stated in several government documents dated 28th March, 3rd May and 22nd August 1916. The A. G. A. of Matale at that time has recorded these arrests in his official diary as follows: "Army soldiers had taken into custody innocent villagers who have not committed any offence. They had accused some suspects without any criminal involvement and shot them under Martial Law. The rulers who suspected the Sinhalese strongly, took innocent persons into custody at their will and lodged false charges against all of them." The following statement made by Mr. D.S.Senanayake on 30th October 1915 clarifies how far the rulers strived to level charges at people.
In DS's words
"I am a proprietary planter and a graphite businessman. When I was at home on the 8th June, at about 12 noon a Town Guard, Police Inspector and two armed Punjabi soldiers came in a motor vehicle to my house and informed me that they wanted to search my house. They called all of us in the house to the dining hall and sent out the servants and asked us to stay there. The two Punjab soldiers were guarding us. The Town Guard and the Police Inspector searched the house minutely. But no secret documents or weapons suspected by the Government were found in my house. Therefore they went away. On 21st June, a Town Guard came to my house at about 5.30 early in the morning along with two armed Punjab soldiers, woke me up and without allowing me to go to the toilet as usual, took me to the Welikada prison and there I saw a number of notables had been taken into custody.
There they examined me and put me in a cell. There was no place for me to sit. There was no bench or chair. I had to wait for a number of hours until I got something to sit on. A prison attendant took me to the Special Army Commissioner. Informing me that I had to make a statement, he asked me several questions that could incriminate me and others. I have not committed any offence. As far as I know, the other leaders too have done no wrong.
| | |
| --- | --- |
| | |
| Edward Henry Pedris | Sir Ponnambalam Ramanathan |
After he asked questions to his heart's content, he made me enter the cell which had no facilities. Other leaders were taken away and were put into cells. As we were in solitary imprisonment there was no one to talk to or dispel our solitude. At noon on that day a servant who was there, pushed some food under the door in an unclean tin plate. Having seen it I got thoroughly disgusted.
Naturally, I could not eat such dirty food. Therefore I stayed hungry. After two days I got permission to get down food from outside. We prisoners were taken to the Police Headquarters and questioned about our public service work. On the occasion we went there, I sent a message to Advocate C. Batuwantudawe to meet me on behalf of Mr. P. Ramanathan. I had been charged for instigating the public in the riot as a leader of the Anti-liquor Movement. But the government did not have sufficient evidence to present against me to prove charges .........."
By 21st June, 86 persons including Messrs Piyadasa Sirisena, Proctor John de Silva, Richard Salgado, Walter Salgado, P.C.H. Dias and Harry Dias had been imprisoned. By this time, along with Mr. P. S. Tissera who was a friend of Mr. Senanayake arrested at Hanwella on 2nd June as mentioned earlier, Boralugoda Ralahamy (father of Phillip Gunawardene) who was over 60 years old and Romanis Perera were in prison.
According to the charges levelled against the school teacher, the Court Marshal had decided to hang him at Welikada prison on 18th July 1915.
This was a great mental agony for Mr. Senanayake. The school teacher stated, clearing tears in his eyes, remembering the past events in respect of that noble leader of men. He could not bear up the intense sorrow, recollecting that his friend who went to Hanwella at his request did not have a chance to go home, was imprisoned, and above all condemned to capital punishment. The school teacher had added that he came to know that this leader of men had told Mr. Piyadasa Sirisena that he would agree to offer his own life in place of the school teacher.
The leaders who were taken into custody and those condemned to capital punishment were imprisoned in the hall named "L Hall". During his imprisonment Mr. Senanayake was allowed to come out of the cell and was free to move about for three or four hours in the prison. During this time he advised the other prisoners and consoled them. The school teacher said, the Welikada prison was the "centre for training" where " F.R." stayed to acquire knowledge and learn about distress in life.
There was an incident where this leader of men who had a mind filled up with patriotism and love for the country, was severely grieved and shocked.
That special day was 7th July 1915. This is how the school master who was a prisoner condemned to death in Welikada prison described that occasion, "A prison attendant who came to us at about 7.00 in the morning on that day told us ' in a short time Mr. Edward Henry Pedris will be shot'. At about 7.30 in the morning, an officer of the prison called all of us including other notables, out from the individual cells we were put in up to that time, and ordered us to stand in a line in the verandah of L Hall.
Edward Henry Pedris's last hours
"We stood in line. Two soldiers carrying rifles fitted with bayonets walked on both sides of a slim good looking handsome young man escorting him in front of us and led him out. The young man walking in Town Guard's uniform was handcuffed. The Army Special Commissioner Mr. A.C. Olnet walked behind him. Mr. Pedris without any fear or hesitation, in his usual manner, walked with body erect in such a way that the Sinhala race would be honoured. He went on that last journey proudly and courageously. We were eagerly looking at him till he disappeared. The sorrow, grief and regret that overcame us was so deep that it could not be described. At that time, I who was condemned to death was quivering with fear. I cannot explain in words the fear that arose in me. It came to my mind that Alas! in another 11 days I too will have to go on this fearful journey. I felt my whole body trembling."
My good friend F. R. consoled me in sorrow and advised me always saying that 'if you are fortunate enough to be born into this world, you will be freed from capital punishment on account of the strategies adopted by me'. I was given a lease of life. I saw Mr. Senanayake who was advising and encouraging me grieving, crying and shedding tears. An eyewitness account of an officer states that when they were getting ready to cover Mr. Pedris' face with a handkerchief when he was led out and made to sit in a chair he had fearlessly refused it and he had put forward his chest without an iota of fear.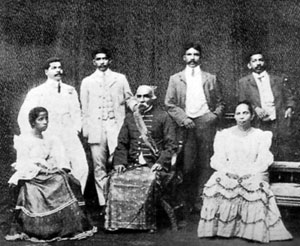 Standing Left to right- Mr. Bandaranaike (FR's brother-in-law), D.S., F.R., D.C. Seated (l-r)- Mary Senanayake (F.R.'s sister), Don Spater Senanayake, Mrs. Spater Senanayake.
Sharp at 8.00 o'clock in the morning the sound of a gunshot was heard. We heard that four soldiers who lined up a few fathoms in front of him had fired at the scheduled time. On that occasion the whole prison turned out to be one funeral house.
About 20 minutes passed after the sound of gunshots. A prison attendant came before us carrying a chair wet with blood. That chair brought by him brushed against the bodies of several persons who were there. It was the chair in which the young Pedris sat. It was bathed with his blood. The Army Special Commissioner quickly followed the attendant who brought the chair.
He showed the chair to Mr. F. R. Senanayake and said 'F.R.! Any person who commits an act of treason against the government by forming organizations like the so-called Anti-liquor Movement will have to die facing such a fate as this."
Our hero asked him, " What did you say? 'facing such a fate as this……' Are you such a cowardly and timid nation to shoot one of our young men and bring the chair splashed with his blood?
"Aren't you ashamed to parade the results of your foolish and stupid act to us when we are sorrowing at the demise of one of our people? Each drop of blood of this young man Pedris whom I treat as one of my own should be considered as sacrificed in the name of the nation. If the stream of blood wetting that chair is counted in drops of blood, the British will definitely have to pay compensation." When these words were expressed by Mr. Senanayake, Mr. Olnet looked on motionless........
There was one occasion which afforded Mr. Senanayake some happiness when he was in prison. That was on 18th July 1915. It was revoking the capital punishment passed on his friend Mr. Tissera, the School Master who accompanied him to Hanwella at his request and was subsequently arrested. In the afternoon of 17th July, a telegram sent from Britain to the Governor ordering him to give a lease of life to all those condemned to death, was received.
The sentence of capital punishment in respect of the School Master was withdrawn accordingly. This telegram was the result of Mr. Senanayake's far-seeing wisdom that had sent Mr. E.W. Perera to England. The basis for pronouncing the sentence of capital punishment on the School Master was an incident where the Sinhala people were said to have harassed the Muslims living in the Hanwella and Atigala area and damaged their shops, and houses. By then, several persons arrested at Hanwella on 2nd June were hanged in this manner. Another group was sentenced to life imprisonment19.
The crimes, corruption, loss and damage carried out by the rulers of this country over three months from 2nd June 1915 to 30th August without any justifiable reason, as a result of paying heed to slander and suspecting people unjustly, cannot be enumerated. If Governor Chalmers and IGP Dowbiggin acted like persons with discerning intellect, this terrible calamity could have been stopped at the beginning.
It was Mr. Senanayake who prominently steered this battle. He became the symbol of the national struggle, that was the objective, hope and aspiration of all people. One cannot state accurately how many Sinhala people were killed in this riot. The statistics presented by the Government authorities are different from one another. The Governor, in reply to a question in the State Council has stated that 412 were arrested under Martial Law and 358 were punished.
Another Government document states that 39 Sinhalese were killed. According to Army statistics, the death toll was 66. Police reports state that 4,855 were arrested and 3,573 were brought before the civil courts. The book Hundred days in Ceylon under Martial Law records that 8,428 persons were arrested and cases were filed in civil courts against 8,016 out of them and that 5% and 95 % of the accused were brought before Court Martial and Civil Courts respectively. A record of the Registrar General at that time dated 14th October 1915 states that 63 rioters may have been killed to suppress the riot.
According to another secret document of the Government, 412 persons were arrested, 54 out of them were freed later, 83 were sentenced to death and the rest were imprisoned. Only 26 out of those who were sentenced to death were punished by Court Martial27. The above-mentioned statistics and documents clearly show that no count was correctly taken of the number of Sinhala Buddhists who were killed. It is suspect whether they were careless or whether they did not give correct statistics in order to cover their guilt.
However, when one ponders over the incidents that had taken place at that time, it is felt that these officers had treated the Sinhalese as they would flies and mosquitoes.
Mr. Senanayake who was without food and drink from the dawn of 21st June until noon of the 23rd, got down his lunch from home and took it after sharing it with a few who were there. Mrs. Ellen Senanayake consoled herself a little by fondling tiny tots Gothabhaya, Nedra and Tissa, their three children and stayed at home, grief-stricken due to the imprisonment of her beloved husband. He sent a messenger from the prison requesting meals to be sent to the jail sufficient for ten to fifteen persons for breakfast, lunch and dinner. Accordingly, she accepted her husband's request with devotion and affection, sent food and drinks prepared by herself, for forty-four days. The young man John Lionel Kotelawala, who became the third Prime Minister of Ceylon, stayed with his aunt (Mrs. Senanayake) as she was alone. It was this playful young man who carried meals to the jail on many occasions.
Sir Ponnambalam Ramanathan who witnessed the numerous forms of harassment the Sinhala community underwent due to the proclamation of Martial Law, made the following speech in the State Council on 11th August 1915: "That there was only one Police Superintendent in Colombo at the time of the start of the riot and out of the 674 police constables who were detailed to protect the town and look after the peace, 180 were sent to Kandy town which was peaceful at that time and this was a foolish act of the authorities. Not only that, the IGP who was specially responsible for the protection of the capital city had gone to Kandy with a group of soldiers. If the IGP stayed in Colombo, it was clear that such a big loss would not have occurred.
The three ASPs stayed in their positions but did not act intelligently". If the Police officers had acted wisely, there would not have been so much damage. He added that the Police officers were just watching the offenders and did not take appropriate steps, and if punishments were meted out under Martial Law, it was not the people but the Police who should be punished. Sir Ponnambalam Ramanathan made a long fiery speech for a few hours adducing reasons for the innocence of the Sinhala public and the indifferent attitude of the Government. The British MP Harry Creasy while agreeing with Sir Ramanthan's speech, censured the inefficiency of the Police.
(The book Deshabandhu FR Senanayake priced at Rs. 1000 will be available at Vijitha Yapa book shops)